Rob Moshein - Austin Wine Guy
Wines were Great but Easter was Late
May 08, 2013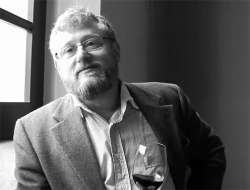 The Oenophobe celebrates Russian Orthodox Easter, so Yr Mst Hmbl & Obdt Svt sees that a chance for a party every year. This year, Russian Easter was a month late in the calendar (don't ask, Gentle Reader, it's complicated to explain).
The preparations for the elaborate buffet were done in time, so I, whilst awaiting the guests, relaxed in the garden with a glass of Pierre Peters Blanc de Blancs Cuvee Reserve. Wonderful Farmer Fizz, clean, elegant with solid structure. Perfect for a lazy Sunday afternoon, sunny, warm and gorgeous.
For the early guests, I opened a 2009 Clos de la Neore Sancerre by Edmond Vatan. Sadly gotten pricy of late, but this is the most perfect expression of Sauvignon Blanc on the planet. Quality does come at a price. When young, it shows a sharply cornered structure, but the 09 with a few years in the cellar shows a perfect roundness. Crystal in structure, but with no edges. Supple, clear and mineral flavors, with a lovely hint of grass.
Later, of note was a 2007 Beaune 1er Cru Les Greves by Domaine de Montille. Dark, dense fruit, yet light on the palate. Nice cherry tones, but a clean earthiness and supple elegant structure. Paired nicely with the cold sliced Standing Beef Shank Roast, from a custom butcher and a free range grass fed cow.
My winner of the evening was 2008 Beaune Teurons 1er Cru by Albert Morot. Wonderful lush nose of dark fruit and morel mushroom. A lively palate of forest floor, redolent with more mushroom and dark fruit. A symphony in the glass, and a crowd pleaser. One more reason to love Burgundy made in the "Old School" way.
A day later, I spotted a bottle left in the fridge by a good friend and overlooked during the party. Waters Winery "Prelude" white. 60% Rousanne 40% Viognier. A wonderful wine, richer than Pinot Gris, but not as dense or heavy as Chardonnay can be. Round, supple peachy toned fruit, solid acids, and a pleasing light viscocity. Wines like this can make Yr Mst Hmbl & Obdt Svt start to drink more domestic wine!
One most worthy friend brought a bottle of 1999 Guiseppe Quintarelli Rosso de Bepi Valpolicella. That bottle was immediately hidden, by me, in the cellar! Will report on it in the future when suitable circumstances arise.
Cheers
Rob Moshein
Austin Wine Guy