Rob Moshein - Austin Wine Guy
Old School is "Old School" and Stony Hill is Old School.
October 21, 2013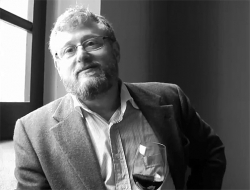 As one may know, Gentle Reader, Yr mst hmbl & Obdt Svt is originally from California. I cut my teeth wine wise with the growth of California wine in the late 1970s and 1980s. It is, therefore, something of a shock to have discovered a vineyard and winery which has been making wines in Napa since 1947, which I had not actually heard of!

I had the pleasure of luncheon with Sarah McCrea (full disclosure: I was the guest of the winery at lunch) who is the granddaughter of the founders of Stony Hill Vineyard and the third generation of the McCrea family to farm the land and make the wine.

Sarah is a delightful, fun and energetic lady, who is not shy about her passion for their land and the wines they produce. The wines they produce can be summed up very easily. "Old School".

"What do you mean Old School?" one can hear you asking. Old School is just that. The way things are done, as they should be, because they have been done that way for decades and decades if not centuries. "Old School" is knowing how to tie a Double Windsor knot and match the pocket square to the tie, after making certain one's shoes are polished. "Old School" is setting the silver properly on the table, knowing which piece of flatware is used when in the meal and using the pressed linen napkins at table.

In this instance, "Old School" is loving white Burgundy and buying acres of Spring Mountain in the 1940s, and ignoring the wonks at the University of California who insisted that one "diversify" the plantings, and so instead planting a mixture of vines, they planted the largest part of the land with some 25 acres of Chardonnay in 1947 (a time when there were only 200 acres of planted Chardonnay in the entire state of California!).

Old School is learning to make the wine yourself, working the land, tending the vineyard and making the wine. Which is exactly what Fred McCrea started to do way back in 1952. Want more "Old School"? In the ensuing 61 years, Stony Hill has had exactly 2 winemakers. Yes, TWO. Fred McCrea, and now Mike Chelini. Mike arrived in 1971 as vineyard forman, and then working closely with Fred, took over as winemaker upon Fred's death in 1977. He has been winemaker ever since. Some "old school" perspective, Yr Mst Hmbl & Obdt Svt graduated High School in 1977!

So, the wines are made "Old School" because that is how they have been made for sixty years. Nothing has changed. What is interesting to this observer is how delightful and refreshing that is for Napa Valley in the early 21st Century. Now, do not, kindly, mistake this writer as in any way disparaging the work of UC Davis and the fine generations of winemakers they have graduated from their Oenology program. What has happened, however, in this humble scrivener's opinion, is that one unintended result has been the creation of a "California" school and mindset of winemakers, who all have the exact same background and skill set, who all have learned the "UC School" of winemaking. This has resulted in, again in one's humble opinion, a rather boring sameness in flavor profile for the vast majority of Napa wines.

A brief digression to make a point. Earlier in this year, Yr Mst Hmbl Svt was in a, what can only be termed as significant, wine tasting. Some dozens of most fine and rare wines were opened and free to be sampled. One found oneself standing in the presence of an open bottle of one of those "Napa Valley Cult" wines. One had seen this wine (which shall remain un-named to save the certain onslaught of flaming hate email from those who worship the label) in highest end shops and on snooty expense account steak house restaurants at stratospheric prices, rarely sold but certainly to help ensure a Wine Magazine excellence award for the house. Yes, this wine is lauded by Mr. Parker and others, and is spoken of in reverential terms by the Pavlovian dogs who worship it as being one of the ne plus ultra California Cabernet Sauvignon exemplars. So, one does what anyone would do in the presence of an open bottle of it. One pours some and tries it. The reaction upon said sample, you await eagerly, Gentle Reader. "Well, it's fine, but it tastes like pretty much every single other over $100 bottle of Napa Cab I've ever had in my life and idiots are eager to pay $500 a bottle for this…WHY?"

Which leads back to the main focus. Stony Hill does NOT taste like every other bottle of Napa Valley anything. It tastes of what and where it is. Which is refreshing IMHO. Which is also exactly the definition of "terroir."

Riesling. Napa Vally Riesling! Yes, it exists and Stony Hill makes it as "White Riesling." It isn't German at all in style, yet it also is not Pacific Northwest either. Clean, crisp and pleasant. Lovely to sip and nice for warm weather and light nibbles.

Semillon. Semillon de Soleil is a lovely light dessert wine, with dried white fruit notes and a tinge of botrytis, which occurs naturally and not every year. They don't inoculate as other Napa neighbors may do.

Star of the show: Chardonnay. One might ramble even further than thus far. Suffice it to say, this is one of the best examples of California Chardonnay tasted in the last 20 years. Clean, vibrant with a crisp solid acidity, balanced by the stone of the vineyard and fresh apple tones. No oak, not butter or popcorn whatsoever; thankyouJESUS. It speaks of Burgundy with a view from California. Clearly age worthy, and also tempting to drink sooner. Seriously, a highly worthy wine which will reward the efforts to find some.

Cabernet Sauvignon is a newcomer, the current 2009 release is made from only 5 year old vines. Aged a full three years before release, 18 months in barrel, 18 more in bottle. It harkens back to the textbook classic Napa Cabernets of my youth, the late 1960s, and especially the amazing 1977 and 1978 vintages. Lovely and aromatic, with just a hint of cocoa, a restrained style reminiscent of Bordeaux Left Bank, and crisp acidity and mineral. Tannins are lush but restrained and soft. The wine will only improve with time, and future vintages are sure to excel in quality as the vines mature. This is one to look forward to in future. The only draw back is not much is made.

AWG loves Old School. AWG loves being Old School. AWG loves Stony Hill. Kudos to the McCrea family. Stay Old School.

Enough Said.

Cheers,

Rob Moshein
Austin Wine Guy.