Rob Moshein - Austin Wine Guy
This ain't your granddaddy's Chablis...
April 23, 2015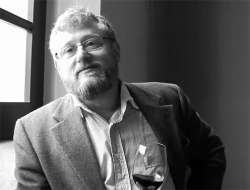 Greetings Gentle Reader. Yr.Mst.Hmbl&ObtSvt begs your indulgence and understanding for my long absence here. I confess feeling for a while as if I had nothing of interest to say. Things, however, have changed.
I recently had the honor of an invitation to Lunch with Gwenael Laroche, proprietress along with her husband of Domaine Laroche in Chablis. For ethical disclosure, Wilson Daniels the Importer paid for lunch. For personal disclosure, Gwenael was a wonderful and lovely person, whom I was beyond pleased to have spent some time with.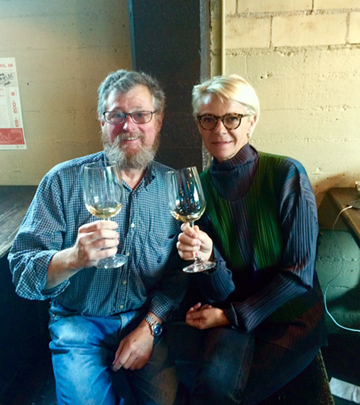 The wines were a pleasure as well. Now, one will know of Chablis, of course. The old fashioned stalwart "fall back" of Burgundy. A known commodity, safe and easy, and never as sexy or glamorous as other White Burgundy wines. My parents drank Chablis, or Pouilly Fuissé. I bet if your parents drank wine in the 1970s they did as well.
I have always enjoyed Chablis. It was always a tad less pricey than the other White Burgs. Always delivered a nice glass of wine for the money. It still does.
Domaine Laroche is a long time name in Chablis, but as with much of the appellation, suffered greatly during the post war years. Henri Laroche managed to save a small portion of this Chardonnay vines by burning straw and old tires to keep the vines warm! His son Michel devoted himself to his father and winemaking, and has expanded their holdings to just short of 250 acres across the best areas of Chablis. Michel has been focused on the traditions of Chablis, preserving and presenting the distinct terroir of each area, and modernizing the techniques in both the vineyard and winery. His utmost dedication is to the quality of the wines and a completely hands-on devotion to vineyard management. All Laroche vineyards are now farming organically and sustainably.
Domaine Laroche is the epitome of the meaning of Terroir for Chablis. Each wine, Premiere and Grand Cru speaks specifically to the terroir of the vineyard itself. This is quite deliberate and what makes Laroche so fascinating and worthy of my meagre words here.
The workhorse wine is their Chablis Saint Martin. A cuvée of course, blended from their various holdings. We tasted the 2012. Crisp and clean, with a pleasant roundness. No oak, keeping it clean and the distinct Kimmeridgian soil notes of chalk and mineral come through. The retail price point of about $30 makes this a fine choice for the average consumer and a great value for those who enjoy White Burgundy and have despaired at recent price levels (YrMostHmbl&ObtSvt included).
Next up was 2012 Premiere Cru Les Vaudevet. Tighter and more focused, bright acids and softer minerality, elegant wine from 35 year old vines. A pleasure to drink, and around $45-50 retail makes this a good value.
2012 Grand Cru Les Blanchots. Blanchots is a major Cru for Laroche, owning several dozen vineyard plots scattered around. Each individual plot of land is managed by one person, who works that plot all year every year. This devotion shows clearly in the glass. Round and solid, salty mineral. Supple and rich flavors, warm and balanced on the palate. This one needs a few years cellar time or decant for an hour or so before drinking for the best experience. Now the retail price will be just south of a Benjamin, but when one compares the price to other Grand Cru Chablis, this is a bargain for the quality you get.
2012 Grand Cru Les Clos. YrMstHmbl&ObdtSvt confesses a 25 year old soft spot in his heart for Les Clos. The "ne plus ultra" for Chablis. This one shot an arrow deep into that soft spot. Expressive yet elegant, bright acidity and tantalizing hints of white pepper and spice. Simply a knock-out punch of a wine, with the punch delivered in soft kid leather Hermes gloves. Now the retail for this delightful bottle will be about $145 or so. Not for everyday, clearly. However, when one compares that price to anything with the word "Montrachet" anywhere on the front label, the price is beyond a steal.
2012 Chablis Grand Cru Reserve de L'Obedience. Named for the ancient monastary in Chablis now owned by Laroche where monks first turned Chardonnay grapes into wine a thousand years ago. A small team of 6 or 7 people blind taste the single plot wines from Les Blanchots. Two rounds narrows the choices down to the 7 or 8 finest plots and ratio of each, and only 3,000 bottles are made from the chosen final blend. The final result is simply amazing and stunning. The sheer complexity is delivered with the utmost elegance, balance and finesse. The perfect expression of anyone one wants from Chablis, or any White Burgundy to be honest.With so little wine produced and only a portion exported to the US, you, Gentle Reader, will be hard pressed to find a bottle. If you manage to find one, and can afford the $175 or so retail, grab it and run. With Grand Cru White Burgundy of similar quality now fetching $250 or far more, I say buy two if you can.
Nice to be back, Gentle Reader. Merci Gwenael and Michel for giving me the wonderful reason to return.
Cheers
Rob Moshein
Austin Wine Guy.