Rob Moshein - Austin Wine Guy
So 2 Master Somms Walk Into a Bar...
July 28, 2013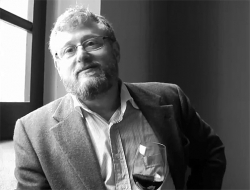 Well, a restaurant and bar, actually. Austin now has the unique distinction of a new restaurant who's wine list is selected and curated by not one, but, nooooo, TWO Master Sommeliers. They have chosen well and wisely indeed.
New place in town, Arro, has recently had its debut, Gentle Reader, and in the interest of full disclosure, they most kindly extended an invitation for me to dine at their "soft opening". Arro is the newest addition to the group of eclectic and good eateries of 24 Diner and Easy Tiger.
The theme and focus are pure French and they took the recently departed Haddington's space and did a wall to wall reinvention of the interior. Then, they had the brilliant idea to reach out to Devon Broglie and Craig Collins, each a Master Sommelier, to select and curate the wine list. I know these guys, and when I heard what they were doing, I was filled with anticiaption and eagerly awaited the result.
In a word, truth, Gentle Reader, Yr Mst Hmbl & Obdt Svt was not expecting the list I was handed. First, it is one sheet of fine paper. Yep. All the adult beverage choices are on one sheet. So, like the menu itself, it is small but brilliantly executed. Right at 70 selections, every one French.
Yr Mst Hmbl & Obdt Svt was blown away.
Arranged not by region, no less. Arranged rather by Variatal. Amazing. Brilliant. Friendly to the less Francophile guest, yet charming to those of us who believe French wine to be the, well, ne plus ultra.
The wines themselves are chosen to suit anybody who walks in the door. From the "I only drink red" to other Master Somms, there are wines to please that palate and every one in between.
A few that brought a smile to me: Gonet Medville Extra Brut Rosé, by the glass! Dom des Aubuisieres "Cuvee Silex" Vouvray, Henri Gouges Pinot Blanc (one of my favorite "secret wines". Permitted in Burgundy because they are Pinot Noir vines that naturally mutate into Pinot Blanc, made by one of the great Burgundians) for only $58 on the list. A Steal. Michel Lafarge Meursault 2010 for when one is in a spendier mood but a still not unreasonable $124, for what it is. (I saw it at $200 all day long in NYC on lists there.) Gaunoux Pommard 1er Cru "Les Epenots" 2006, lovely. "Brio" de Ch Brane-Cantenac, the "Petit Vin" of the venerable Margaux wine from the spectacular 2009 vintage for a reasonable $72. 2005 Clerc Milon Pauillac for those special occassions at $168.
Average bottle prices hover between $45-70, well below many lists in town, with plenty of by the glass choices between $8 and $15. These boys make it easy and a pleasure to order wine when dining out in town. That is a rather weighty statement by Yr Mst Hmbl & Obdt Svt who usually orders by the glass, refusing to pay the standard restaurant markup of three times RETAIL. When one knows that the restaurant paid $12 for a bottle, then charges $49 on the list, it smacks of a felony theft charge. No so Arro, Gentle Reader. Anyone in the trade will note the prices are quite reasonable for a restaurant.
Well done Gentlemen. My highest and greatest compliments to you. All air, nothing but net. Swish for three points from half court.
Oh, the food was really good too. Especially dessert. Worthy of a visit to Arro when one is downtown on 6th Street Gentle Reader.
Cheers.
Rob Moshein
Austin Wine Guy.
(PS: Shoutout thanks to Mitch, you know why.)