Rob Moshein - Austin Wine Guy
What a Long Strange Trip Its Been...(revised)
March 20, 2009
I owe you, gentle readers, an apology for such a long absence between blogs.
I have spent the last three weeks away from Austin: first week tending to my Dad in a hospital Intensive Care Unit, dressed in a silly yellow gown and rubber gloves, from 8am until late afternoon, while also tending to my Mom, and then coming home and cooking for the whole family, to relive the tedium of mediocre Hospital coffee shop food and neighborhood restaurants. Thence to five days in a dingy cramped regular hospital room, after Dad's kidneys failed and a slow painful form of dialysis did not improve him; and finally to a beautiful large cheery room on the "luxury" 8th floor of the hospital. For the last week, holding his hand, talking to him, trying to keep his spirits up and keep my Mom sane, as Dad grew more yellow from the failed kidneys, weaker from his failed heart, and cleaning up the odd black liquid he would vomit reguarly (sorry for the visual...). Dad passed last Sunday, surrounded by his kids, grandkids and Mom. My sister and I were holding his hands. The funeral was last Tuesday. Some 300 people attended.
There were lighter moments. My favorite was Dad's last lucid day. Dad asked for my hand, saying "Son do you know how much I love you?" I said "Sure Pops, you love me just a little bit less than Mom, and a little bit more than Golf." His eyes twinkled, he waved his other hand, cocked his head in thought for one moment and squeezing my hand tight replied "Yah, thats about right..." Another morning, my older sis and I arrived together at 8:30 one morning, we each stood on either side of the hospital bed, holding his hands. He said "I talked to God last night..." My Sis and I looked long at each other..."Oy vey" we were thinking...We asked "What did God say to you?" Dad replied "Acapulco was beautiful..." One of his best friends, Joe, is a very devout Orthodox Jew, Joe had just gotten back from Mexico and came right to see Dad that previous evening. "God" of course was Dad's nickname for Joe...
My wonderful niece, who works in the TV biz, decided I needed a break from the hospital, and so took me with her to the taping of the Comedy Central Roast of Larry the Cable Guy over at Warner Bros. Now, am not much of a "Git R Done" guy, but it WAS a lot of laughs, which I really needed. Maureen McCormick , yes MARSHA BRADY! absolutely KILLED, being funnier than the other professional comics of the night. Gary Busey is just plain whacked, and Lisa Lampinelli is just plain foul mouthed (but hysterical).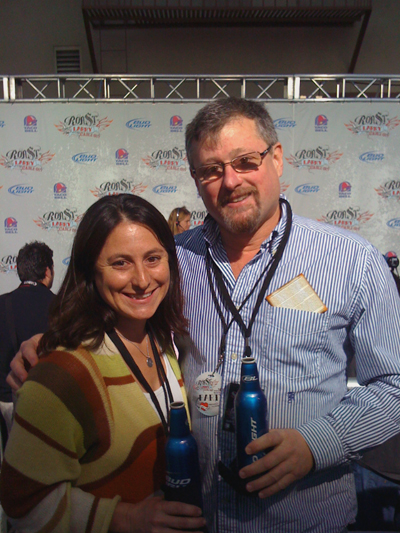 The coolest part was making a new buddy that evening at the after party. Paul Soter, one of the Broken Lizard Comedy guys. Now I hate to admit it, but Super Troopers and Beerfest are pretty darn funny, so I walked right up to Paul before the show and told him so. He found me at the after party, and we chatted a good long while, and he is definately cool. Can not WAIT for Super Troopers 2 bud!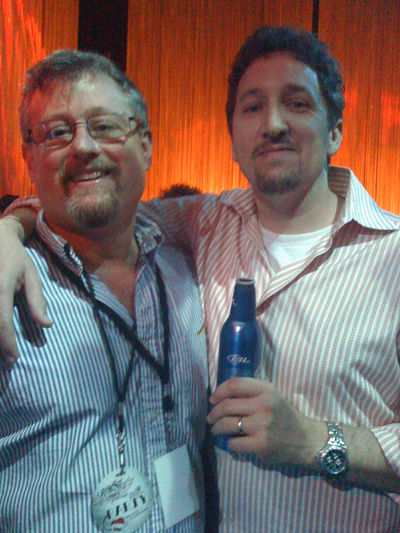 The only wine worthy moment was last Saturday night, courtesy of my dear bud Paul. Knowing that the choice of wine in the closest grocery store to my parent's had a miserable wine selection and my Wine Guy Soul despaired, he came to dinner with the family, bringing along some oenological salvation in a bottle. To Wit:
Pernand Vergeless Premiere Cru "Clos Berthet" Dubreuil-Fontaine Pere & Fils, 2005
: Paul called it "Corton Light" which was right on the money. All the wonderful fatty goodness and crisp minerality of Corton, but with the volume turned down a couple of notches. A wonderful first starter, glorious now and structured enough to last a while. It doesn't hurt that this specific vineyard is the adjacent side of the Appelation boundary to Corton.
Domaine Leflaive Chablis Grand Cru "Les Clos" 1995
: Paul knows this is one of my top ten wine Favs. So young tasting and vibrant, proudly showing the rich fatty herby stony crisp flavors that make Chablis what it is. One would not have guessed the wine was almost 14 years old. My weary Soul brightened noticibly when drinking it. 'nuff said.
Giacomo Conterno Barolo Cascina Francia-Serralunga d'Alba 1995
: Talk about Old School. Wow. Cherry, tarry, earthy, elegant, smooth, complex but never ever heavy. Perfect with the grilled Tri Tip I made. No wonder Iconoclast Paul has now cast aside brother Aldo (I can hear your gasps and cries of "heresy!" now) in favor of Giacomo. Again, this one was really almost too young to drink, but 45 minutes breathing later, didn't deter us from savoring each drop. Heck even my MOM liked it!
It was Dad who taught me to enjoy life, to never put off dinner with friends, or opening the good stuff. Life is to be enjoyed now, by the living and we never know how much time we have been granted to enjoy, so we should savor every day, deeply cherish every loved one, enjoy and honor every friend, drink only the good stuff, and tell every good joke, no matter how clean or how dirty, so that everyone has a good laugh and great time.
Be like Dad. I know I strive to do that every day and will do so every day of the rest of my life.
Cheers,
Yr. Mst. Hmbl. & Obd't S'vnt,
Rob
Austin Wine Guy (
temporarily displaced in Beverly Hills, but returning home shortly)