Rob Moshein - Austin Wine Guy
The Shining of the Red Room....Red Room...
June 19, 2012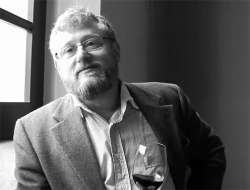 Gentle Reader, imagine yourself downtown. That shank of the evening after dinner, but not yet time to head home. What to do? What to do? A huge noisy crowded bar? Loud blaring music? No, the vibe is too mellow, the mood too serene…What to do? What to do??

Your friends lead you down into the semi shadows of the single digit streets, past the glaring signs of "big name" restaurants. "Where are we going?" you think to yourself…this little stretch of downtown is deserted this late…all the action is to the west and north…

A red wall, under a graphic printing company, a red door barely stands out. Your friends ring the bell. A window in the door opens, a voice asks "Password?" "Bone" your friend says…the door opens…

A 1920s Speakeasy?? No. Rather, the word your friend uttered was not "Bone"…rather "Beaune" and you step down a short flight of stairs into The Red Room Lounge. The brainchild of Alex Andrawes of Personal Wine and Wines.com, and the hard work and talent of Tex Somm of the Year 2011 Bill Elsey, The Red Room Lounge is the hottest coolest thing to hit the Austin Wine scene in years.

The basement of a century old building has been turned into a clubby, comfy space, with red walls, dark stained concrete floor, huge leather high backed chairs and Chesterfield sofas, soft lighting, and one huge wall of wood wine racks and another wall filled with modern art and collectible guitars.

A varied selection of wine by the glass is available, including very fine Grower/Producer Champagne for only $14 the glass. The truly beauty part? A massive list of wines, at 500 this weekend, for take home or drink now! The list is beautifully chosen by Alex and Bill, ranging from crisp, clean, minerally Cava for $20, on up to the rock star level of First Growth Bordeaux, Grand Cru Burgundy and California Cult Classics, some of which even Yr Mst Hmbl & Obdt Svt has seen, but never been in the presence of one opened. Yes, I'm talking about Screaming Eagle and the rest.

The vintages are not just "off years" Gentle Reader, but rather the finest ones, including 1982 Bordeaux. The sheer size and depth of this list will not only put any local restaurant to shame, but will indeed please even the deepest pocket long time collector and the novice budget wine lover equally.

But, the really hottest coolest thing? The pricing structure. The "take home" price is spot on reasonable retail. Which you can actually use to take some home. Or, you can add the unheard of up charge of only 15-20% to the retail and enjoy it there. Compare that to the restaurant standard up charge of three TIMES retail!

Now about that "password" business. Red Room Lounge is not huge. It can only hold about 40 comfortably. So, the idea isn't to exclude folks, but rather, admission has to somehow be limited, so they decided to use the password to make sure that "friends" of the place can get in, by emailing the password of the week to those who want to have it. Reservations can also be made, to avoid the password issue. Or, you can just show up and take your chance that there is room. Which, right now is not a bad option. However, I predict that Red Room Lounge's popularity will soon grow.

The vibe is intentionally laid back. Their hours, for example: Early afternoonish to midnight, 1 am on Friday/Saturday. If the door is open, come on in and have a glass. That's how they want it.

I love it. I finally have a good reason to be downtown more often. If you can't find on street parking, the valets for Max's, Vince Young or Fogo will accept your business.

Red Room Lounge. Worthy!

Red Room Lounge & Wines.com
306 E. 3RD ST. STE: A | Austin, TX 78701
512.476.WINE (9463)

Cheers,

Rob Moshein
Austin Wine Guy