Rob Moshein - Austin Wine Guy
The Pursuit of Excellence, Indeed. Castello Banfi & Sangiovese
May 13, 2010
The Pursuit of Excellence? Indeed.

Yr Mst Hmbl & Obdt Srvt here was invited to attend an interesting tasting the other day. Rudy Buratti the Chief Winemaker for Castello Banfi was here in Austin, to explain what Banfi has been doing at their Montalcino Estate. Here's Rudy at the tasting: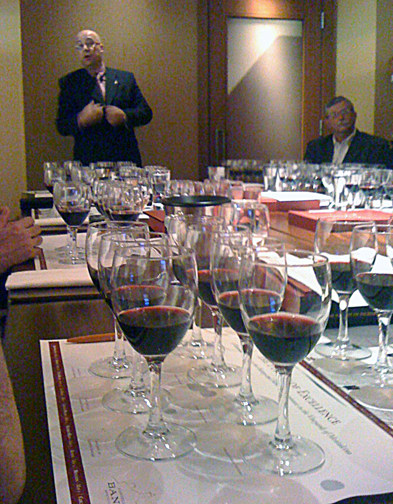 That's actually an understatement. For thirty years (!) Banfi has been undertaking a thorough examination and investigation into all things Sangiovese in Montalcino. They have identified over 180 different clonal varieties of Sangio. Fifteen of them are genetically different enough to be distinct. Three were identified as being the best for making wine. They have even identified the specific proportions of each of the three to blend together.

We got to taste the three. BF30 brings the floral and acid structure to the party. 30 means 30%. Janus10 brings a lighter body and more tannins. Janus50, the primary component at 50% brings a bright nose, fresh lush fruit and a prettiness to the party.

Now think about this, it takes four years for vines to produce fruit, so these clonal trials took some time, and effort.

Whew. That enough? Nope, there's more.

Forty Eight different vineyards on the estate. Each planted with these same three clones in the same ratio. Each having its own distinct terroir. Each one of the forty eight is harvested by hand, separately, then vinified separately, before selection for blending. We tasted the blend from four different vineyards, and you could tell the difference easily between each vineyard site.

Still not enough? Wait, there's more.

They use all French oak, about one third new every year, so each cask is only used for three years. They hand select their trees in France, then have the lumber shipped back to the estate in Montalcino where they age it THEMSELVES on the estate for two to three years before having their own coopers make barrels to their own unique size and shape, which is somewhere between a barrique and tonneau for those who care.

Wow.

Talk about dedication. Oh, did I mention the fortune spent on a unique fermentation tank system with stainless top and bottom for easy cleaning and total exact temperature control and pumping, but with a huge oak center section to add the character of wood, which can be slid out and back into place when needing to be replaced? Oh, and add the complete hand harvest, and hand berry selection for EACH clone separately from EACH of the forty eight vineyards. You get the picture. These people mean business. They mean business on many levels.

Now, Banfi can have the reputation of being the "Gallo" of Italy. Let's face it, every single grocery store in the United States has Banfi on the shelf. Big business indeed. However, they use this "force" for good, not evil. This gives them the freedom and cash to produce these exquisite wines in Montalcino. Now, not all of them are hugely expensive. The BelnerO Sangiovese Cab Merlot blend, around $40, and the Summus Sangio Cab Syrah blend, around $60, are quite competitive in their price points,and very very good. Belnero is all elegance and terroir. Summus is meaty and earthy with a denser structure. Belnero is for the dinner party with the good china and grandma's silver. Summus is the backyard grill and good friends on a Sunday.

Brunello, of course, is the raison d'être of the exercise. We had three 2004s. The "classic" Castello Banfi, Poggio Alle Mura and the privilege of Poggio all'Oro. All three are fine examples of Brunello. Very clean, very structured, and very much evidence of Rudy's commitment to quality control and constancy of style. The "Classic" showed a bright fruity nose, complex and elegant on the palate, with dark berry flavors. Best "bang for the buck" of the three. Poggio alle Mura was a rich, complex wine, with a smaller nose, clearly needing time in the cellar to blossom. Poggio all'Oro was a huge lush wine, huge nose of dark berry and spice and that elegant dance of complex flavors which are never heavy on the palate. My clear favorite of the three. For good reason.

Poggio all'Oro is only made in the very best vintages, and aged for five years instead of the four for the other Brunellos. In fact, only three vintages have been released in the last 12 years! A beautiful, elegant yet bold wine. Worthy of anyone's cellar.

At the end of the afternoon, we were each presented with Banfi's Sangiovese "Bible". A hard bound, slipcased, 440 page opus magnum on Sangiovese and Brunello di Montalcino. Want to know all about the weeds growing in Montalcino vineyards? 20 pages on that subject. Another 20 on 4-Ethyl Phenols versus 4-Ethyl Guaicols. Seriously. Oak and barrel analysis and discussion takes up 60 more pages.

The title of this book is simply "The Pursuit of Excellence". Indeed.

Cheers,
Rob Moshein

Austin Wine Guy.