Rob Moshein - Austin Wine Guy
The Birthday. THE Birthday...
November 08, 2009
So, yeah, I turned Fifty. I don't feel fifty, at all. It's just a number on my Driver's License. But, people wanted to celebrate it, and so I've been busy. Hence, the long silence blog wise from Yr Mst Hmble & Obdt Svt here.

First part of Birthday week, and heck, don't you deserve a Birthday WEEK when you turn 50? I went out to the 90210 to be with family and old good friends. How cool (or weird?) is it when every meal is planned in advance before you get there? Thursday night, my favorite Sushi place, and one of the few I wll return to anywhere, was Sushi Sushi on Beverly Drive. Shige-san put out one of the three best meals I have had with him over the last ten years. Matsutake Chownmushi was awesome as was the Chu toro handroll. Lunch at Nate n'Al's with Julie and Craig (a ritual going back more than 30 years to High School, I still treasure it). Lunch with Mom at Apple Pan, Hickory Burgers with cheese and fries (a ritual so old it's been always part of life, I just miss Dad not being there too). Big noisy family Sunday dinner at Jar.

Now, best wine buddy and favorite friend (and ultimate wine curmudgeon) Paul absolutely INSISTED on Saturday dinner at Marche LA. It's in the Valley. If you don't understand what that means, you aren't from Southern California. Suffice it to say that the Beverly Hills "Monopoly" game edition doesn't send you to "Jail", you go to the Valley and lose a turn...nuff said.

HOWEVER, Marche LA is a MUST EAT AT restaurant. Paul was spot on. An amazing fabulous meal. We put ourselves into the Chef's capable hands by ordering "Omakase" style. Paul brought wine from his cellar, and we bought one bottle.
First: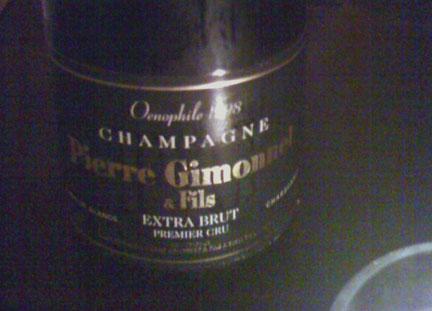 Pierre Gimonnet Extra Brut Oeonophile 1998 from Paul's cellar. As perfect a champagne as I have had in years. A slight whiff of "old Pol Roger" at first that blew off in five minutes, leaving a laser focused crystalline clarity of flavor and nose. Delicious and enticing on its own, it paired beautifully with appetizers most particularly the Trout Rilletes, and the fish course and salad course. I swear if I poured it blind for anyone they would have no clue it was 11 years old. Am so glad, as is Paul, that he has half a case left!
Next we had hopes for a 1996 J. M. Boillot Puligny Montrachet 1er Cru "Champ-Gain", which Paul and I had previously shared four or five years ago. Now, mere mortals would have happily consumed the wine. We, however, were not settling for less than perfect. The Burg was on the down side of a brilliant run. One brief taste and gave the nearly full bottle to the kitchen and waitstaff.
So, we asked permission, begged, pleaded and I threw in the "big birthday" to help get granted the opportunity to actually BUY a bottle of Sancerre from the list. Why so much effort you ask, merely to be "allowed" to buy wine? Well, the wine in question is one of only TEN cases in the entire United States, and the Marche LA somellier has a very short list of those deemed "worthy" to actually buy a bottle. Fortunately for us, Paul is known to be on that very short list...
2007 Clos de la Neore from Edmond Vatan. Vatan is 80 years old, and only makes wine for his friends. This is the most singularly perfect and best Sauvignon Blanc have ever had from anywhere on the planet. To call it the best "Sancerre" would be an understatement. It achieves that almost impossible perfect balance of complexity and lightness on the palate. Citrus, salt, stone all pervade but not one note stands out from the others. I called it a diamond, clear and brilliant yet full of life. Paul called it a "crystalline sphere" of perfection without edges. We both call it amazing. WOW. What a privilege to have tasted this.
Next up: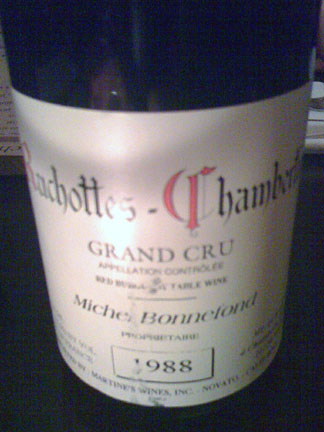 Ruchottes Chambertin Grand Cru Michel Bonnefond 1988.
Now, the name Michel Bonnefond doesn´t probably ring a bell, it didn't to me... Paul explained that this wine was made by Christophe Roumier(!!!!) and Mr Bonnefond was just the landowner. Another PERFECT wine. It showed zero sign of age. It was opened and decanted the moment we sat down and not touched for well over an hour. Flawless nose of flowers and berry/cherry Burgundy tones. The palate was still tight, focused and a bit closed. Dark fruits, dense structure and acids I have never before seen remaining in a wine old enough to vote in a Presidential election! Again a wonderful balance of power and lightness on the palate. It paired perfectly with the Chateaubriand of Free Range Grass Fed Piedmontese Beef with Gaufrettes the Chef presented as the main course. Again, I must say it was a privelege to have tasted this wine.
We shared some with the Chef, Gary Menes, who came to the table after the meal. The amazing, interesting and perfectly prepared food made sense when Gary told me that he had worked with and trained under Thomas Keller at The French Laundry. The only odd thing was that by 10pm we were literally the only people left in the place! I'm glad it's in the Valley, if this restaurant were within ten minutes driving of the 90210 the place would have been three times as expensive and packed until the wee hours. It was wonderful to have the staff's total attention as the last diners for almost an hour.
I am beyond grateful to Paul for the best birthday present I got, which was this meal and his company.
A week later to the day, the BIG day. October 24. Back home in Austin. I invited only people I like, and whose company I enjoy to the house. I refused to cook, but did indulge in real, US farm raised, caviar and Scottish Smoked Salmon for the buffet table. I put out from my cellar a J sparkling vintage 1990 (drinking very nicely. Not old, a bit fat, a bit warm but clean and tasty), my FAVORITE of the evening Deutz "Cuvee William Deutz" Millesime 1990 WOW, take the Gimmonet and pump up the VOLUME! Nobody could believe the wine was that old and showing so perfectly. Bruno Giacosa Barolo 1988 which was still a bit young, agressive earthy flavors, tight acids, but tasty. Dunn Howell Mountain 1994 which consensus showed was probably slightly corked with an odd vegetal tone to the finish. Opus One 1994 which was a total bore, zero character, nothing special and underscores why serious oenophiles are so over Opus. Coming in the door: Grange 2001, Caymus Special Select 2002 and about forty assorted bottles of wine that I either didn't get to or can't remember tasting, along with about fifty friends. A perfect party, and heck it even made the local paper:
http://www.austin360.com/blogs/content/shared-gen/blogs/austin/outandabout/entries/2009/10/27/rob_mosheins_50.html
Courtesy of my buddy Greg Randle of The Good Taste Report, the party is on Youtube! Enjoy:
An Evening at Rob Moshein's 50th
Thanks to "all y'all" who made the big Five Oh so much fun and so special!
Cheers,
Rob Moshein
AWG