Rob Moshein - Austin Wine Guy
Just what Austin needs.
November 22, 2008
In the old days it was a "good 5 cent cigar"....times have changed. The concept hasn't.
Well, you can't buy anything for a nickel these days, except maybe three minutes parking downtown and cigars have long since faded as a social trend. The meaning of the phrase, for all of you born late in the 20th century, was something good for a reasonable price. You know, "
value
".
Yr. mst. hmble & obt. srvt. here got another one of "those" emails of invitation (and keep em comin y'all! I love em!!), this time to the Opening Party for Cissi's Market Wine Bar last Thursday night, down on the hottest block of the hottest part of the really hot SOCO neighborhood.
First thought was "great, like we really
need
yet another wine bar". And, honestly, we don't. and I HATE going places alone. This occassion my "plus one" crapped out on me last minute.
B U T
: Back in my mis-spent younger years as an attorney, I was talking to my then employer/mentor, a grizzled elder lawyer who was a semi-legend in the Los Angeles legal community (Harry Weiss, a colorful character indeed who I should really write a screenplay about..but thats another blog in and of itself and I digress....) about does the world really need another lawyer? Harry said "Robbie, the world will ALWAYS have room for another GOOD lawyer. There are too many BAD ones out there, but a good one will always succeed. Be a GOOD one."
Well gentle readers, the same is true for wine bars. We are replete (look it up) with wine bars, most of which are of the same ilk (look it up). Cissi's Market is something else altogether. viz: A GOOD ONE.
The new So. Congress facade sparkles at night, very inviting, very elegant, but not stuffy. The interior is more of the same. Now, am not much of a fan generally speaking, of slick modern design, but at this place it works beautifully. Clean, elegant, yet warm and comfortable. Not too dark, not too bright. One whole wall of wine bottles becomes all the art it needs and tells you that they are indeed serious.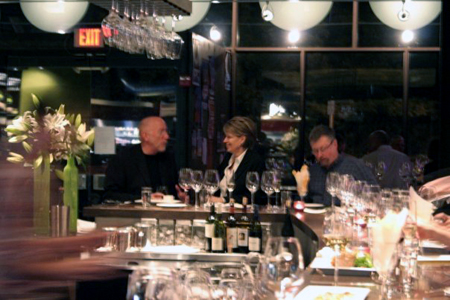 The Austin Wine Guy at right, with Michael Barnes, Austin American Statesman Society Editor far left and Piper Jones, center enjoying Cissi's Market Wine Bar. Photo Courtesy of
Jetté Momant
.


Greeted warmly and genuinely the second I stepped in. The place exudes a friendly Austin vibe; for y'all not from 'round here, that means a laid back, vibrant warm energy. Longtime colleague Sommelier Nat Davis is at the wine helm so I already know how serious indeed they ARE about the wine. Count on the list being very well chosen for quality and value for your dollar. Feel lost in the list, just ask Nat. I need say no more.
The menu is perfect for grazing, sharing, and nibbling. Who told them I'm a sucker for home made potato chips, even when you call them the fancy name of "gaufrettes"? and hell, shaving gruyere on top with fleur de sel! 'nuff said. Zapp's Potato chips as the vehicle with which to relay home made gravlax to the gullet, a stroke of utter GENIUS.
The "all day breakfast salad" is equally irresistable. I mean, bacon lardon, egg, romaine, tarragon vinaigrette...whats not to like?
Dessert, one word, platelickingamazinglygoodyummmmmmmm. Oh, and they are equally serious about their coffee!! Just ask. You will be glad you did.
OK- Best part, I made new friends. THAT is what makes Cissi's stand out from the crowd. Deep down inside, we all want our own "Cheers", where everybody knows your name. Where you strike up a conversation over a glass of wine and plate of food. Time passes without notice. Connections made, smiles, nods, laughs, and you walk out into the night better than when you stepped in - having enjoyed your time and made a new friend or three. Walking in alone, and walking out with new friends is what its all about.
Victoria, Piper, kudos - come to dinner soon. Nat, job well done, keep up the good fight buddy.
For the rest of y'all, making your way through the world today takes everything you've got, sometimes you want to just go somewhere where everyone knows your name and they're always glad you came. Cissi's is that kind of place. Go. You will have chosen wisely.
Cheers.
AWG