Rob Moshein - Austin Wine Guy
I am all Ground Up!
June 11, 2012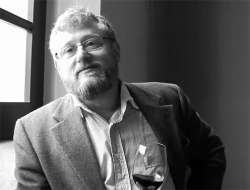 Gentle Reader, I must say something worthy this way came recently. Brian Phillips is a good friend (this is also an ethical disclosure), whom you may remember Yr Mst Hbl & Obdt Svt blogged about last year when he was running the wine program for Haddington's. His palate is very much in synch with mine. He is one of the most terroir driven somms I know.
Brian has moved on, and amongst other things, he decided to make some wine himself. Talk about putting your money where your mouth is! It has been a long wait for me, as you will see shortly.
The other day, Brian most graciously dropped off a complimentary sample bottle (second ethical disclosure) of his wine; Ground Up, a 2010 vintage Tempranillo from one single Texas Hill Country AVA, the Kuhlken Vineyard.
I must admit, a fine first effort. After decanting and letting it breathe an hour, as Brian suggested, I found it pleasing on the nose. Light nose, nice berry tones and a touch of warm earth. Light to moderate in concentration, soft and silky. Brian's note that it should be lightly chilled is spot on target. The palate is very dried berry, straw and rasp, with very low acidity and low tannins.
Not really a food wine, but very very much a wonderful "porch sipper" for the hot Texas summer, before dinner, out on the boat. Perfectly fine without food. Very few local reds can make this claim.
When it's this hot, and you're tired of white wine, get "Ground Up"....
Bravo Brian! I hope the 2012 vintage cooperates to provide another go round for you!
Cheers,
Rob Moshein
Austin Wine Guy