Rob Moshein - Austin Wine Guy
Groovin on the Pedernales...
July 18, 2012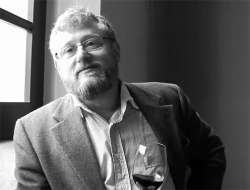 Gentle Reader, as many of you know, Yr Mst Hmbl & Obdt Svt tends to be, shall one say, critical, of Texas Wines.
I strive to be fair, and my goal is, honestly, to help improve the state of things wine wise in Texas. Am most pleased to report that things are indeed improving nicely.
Recently, I was sent three bottles of wine as review samples courtesy of Pedernales Cellars (ethical disclosure). Now, before we may proceed, I must teach non-locals some Texas talk. The Vineyard in question is pronounced "Purd-uh-nalluhs".
The wines in question were all 2011 vintage. Now, a word must also be said about the 2011 vintage in Texas. Well two words: Hot and Dry. I mean, Death Valley hot and Sahara dry. Brix levels rose rapidly, vines were stressed, yields low. Difficult at best, nay impossible for many.
So, for the three bottles I tasted from Pedernales Cellars, I must say "Job well done given your huge challenges". To Wit:
Albarino: Light, clean, pretty. Easy to drink and a touch of sweetness on the palate. Given the vintage, am eagerly awaiting future releases when the climate is more co-operative.
Viognier: Something Texas does well. Something Pedernales does quite well. Nice body weight, pretty floral tones, a bit thick on the palate due to the rapidly ripening fruit, but all in all a pleasant drink that paired nicely with grilled chicken.
Viognier Reserve: Star of the show and deserved the Gold Medal it won (after I tasted and made my notes - ethical disclosure) in San Francisco at one of the few Tasting events who's medals actually mean something). Lush, vivid floral, slightly honeyed almond flavors and elegant balance. When the weather is cooler and a tad wetter, as we are having in 2012, the acid levels should make this one nationally competitive in quality.
Keep up the good work guys. You are showing the way forward.
Cheers
Rob Moshein
Austin Wine Guy.