Rob Moshein - Austin Wine Guy
Gettin' Savoie Savvy. Summer perfection.
July 23, 2012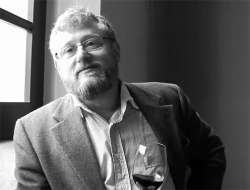 Over the weekend, Yr Mst Hmbl & Obdt Svt was doing the usual Saturday routine, including the obligatory mid-day stop at The Austin Wine Merchant for their Saturday tasting. I love prowling the stacks of boxes, and seeing what tickles my fancy.
One wine stopped me. Chignin from the Savoie. I knew Savoie, of course, but, Chignin itself didn't ring a taste memory. The specific bottle is the Denis & Didier Bertholier Chignin "Veilles Vignes" 2010, and at $15, it passed the "why the hell not" test.
The Bertholier vineyards are Southern Savoie slopes, re-planted at the end of the 19th century by the great grandfather Bertholier and still family run and owned. The vines for this bottle are the oldest ones on the property, specifically varietal "Jacquère". Can't say I remember having tasted "Jacquère" before. Can say I'm glad I did.

Boy howdy (as the locals say) was I glad I did. This white wine just hollers "perfect" for the dog days of mid summer. Clean, crisp and fresh. A light lime/peach nose leads to a wonderfully balanced mid body palate. Flavors of green grape and stone fruit are elegantly balanced by a really interesting stony minerality and laser perfect acids that keep you coming back again and again. Easy to drink, but still compelling in the sheer uniqueness of the flavor profile. As my good friend John put it, "Chignin just tastes like Chignin. It doesn't taste really like anything else."
Paired perfectly with my dinner of cold Chef Salad, with cold turkey, beef salami, mixed greens, cucumbers, artichokes, red onion, tomatoes, green pepper and all chopped and tossed with home made herb vinaigrette. Stayed perfect for sitting out on the front patio as evening turned dark, and enjoying the still of the night with a cool glass of wine.
Savoie Savvy indeed.
Cheers,
Rob Moshein, Austin Wine Guy