Rob Moshein - Austin Wine Guy
Boston, What A (Wine)Riot!
April 25, 2012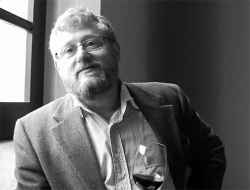 What a Riot!

OK Gentle Reader, now, imagine a huge, 1800's stone castle looking building, with a huge inside hall, half a city block long and with a three story high ceiling. Fill it with thirty plus booths, each pouring 8-10 different wines. Let in a thousand people over a four hour session, hand them a tasting glass and let loose a DJ to play rocking music. Add temporary tattoos, food and an iphone/ipad app to keep track of all the wines and a live twitter feed.

The result: Wine Riot Boston at the Park Plaza Castle in Beacon Hill, Boston.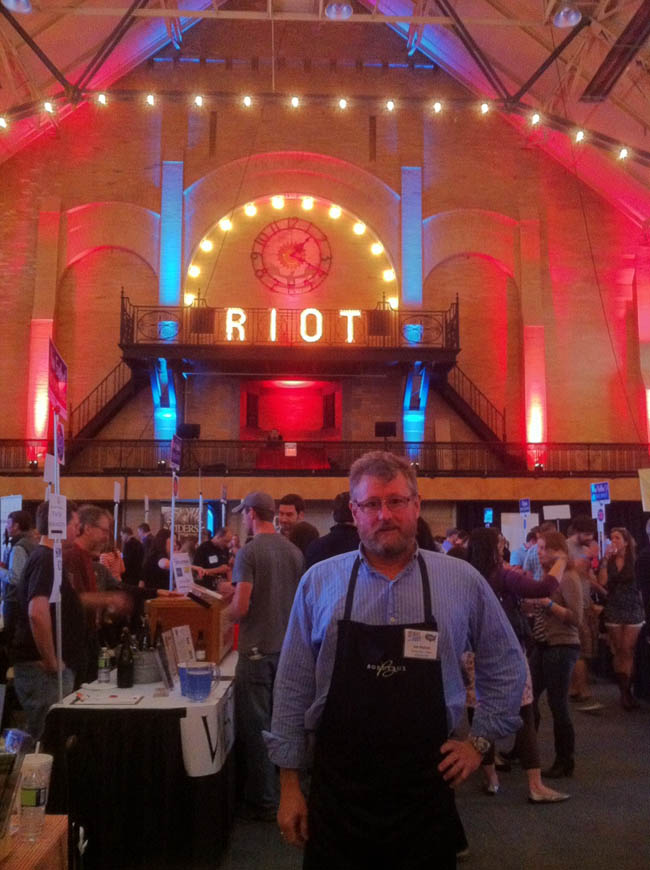 The brainchild of Second Glass, Wine Riot is national event, touring major cities across America in 2012, to educate, excite and expand the palates of a new generation of Wine Drinkers.

Yr. Mst Hmble & Obdt Svt was invited by the Bordeaux Wine Council to take on my role as one of "Le Wine Buffs" and showcase what Bordeaux offers at their booth in Boston. I had never been to Boston, so was thrilled at the chance. Wow, I loved Boston! What a beautiful, fun and interesting city. I must go back with more free time.

We had three four hour sessions, Friday night and Saturday afternoon and evening. Some 3,500 people came through the door. I was hoarse and exhausted by the end, but what a great time! I did manage to get a few hours away. Two great meals, brunch at Gaslight Brasserie in South End and amazing pizza at Todd English's Fig's, and I was able to explore the Beacon Hill area. The Boston Public Gardens, just across from where Wine Riot was happening were spectacular, with the Cherry Trees and Dogwood in full bloom!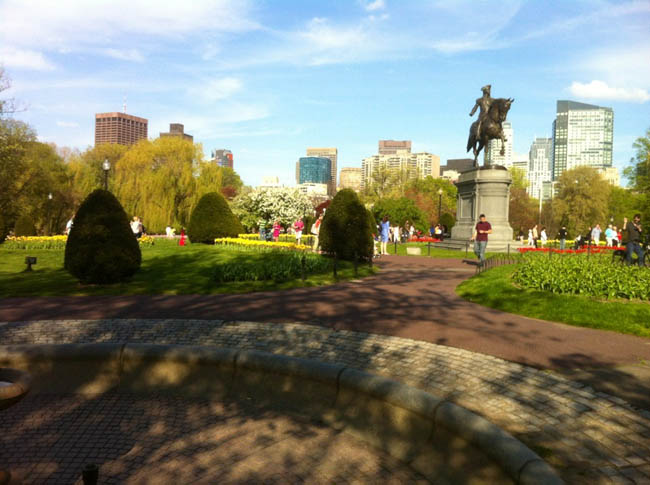 We poured: Ch. Bois Martin 2010, Pessac-Leognan white. Lovely, clean, lively with a nice peach skin tone, citrus acidity and a flinty, stony finish. A huge hit with the crowd.

Ch. de Castelneau 2010, Rose, well actually a Clairet, one of my favorites! Bright berry tones with a clean, mineral finish. As expected, I turned on a lot of folks to "fear not the pink" with this one!

Ch. Greysac 2007, Medoc. One of "Today's Bordeaux" wines, and a sturdy workhorse wine that is an easy "go to" in any situation. Not complex, but with the nice, typical cherry/berry tones, great structure and tannins. The $15 price point makes this a "mid week" Bordeaux. Very popular in Boston.

Ch. Hermitage-Mazeyres 2009, Pomerol. An amazing wine, from an amazing vintage. Dense, rich fruits, coffee, beefy tannins. Sadly, quite young, and a bit hard for the young, new drinkers to wrap their heads around. Fellow Wine Buff and good friend Megan Wiig, of Wiig on Wine, agreed with me that this was an amazing drink, which will perform well in several years.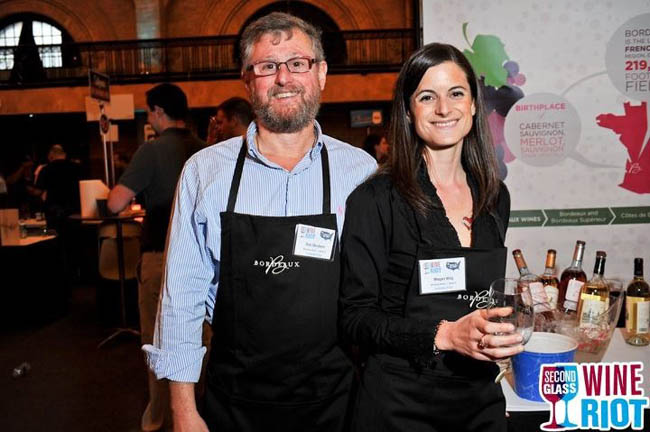 Austin Wine Guy and fellow "Le Wine Buff" Megan Wiig enjoying a quick break from the Wine Riot madness.
The wine showing the best on the table, and a huge hit was Ch. Teyssier 2005 Montagne St. Emilion. Black cherry, full body, silky, concentrated yet not at all heavy. A true Prima Ballerina, doing complex things but seemingly effortless.

All in all, Boston was a Riot!

The really cool part? Wine Riot is coming to Austin July 20/21! I'll see you there, as am already booked!

Cheers,
Rob Moshein
Austin Wine Guy