Rob Moshein - Austin Wine Guy
AWG in Bordeaux Day 5
August 23, 2010
Sorry for the delay in this last episode of Bordeaux. Found the notes I'd been writing from earlier and just now finished.

Thursday.

Awoke to the sounds of roosters crowing. Seriously. They really do that! I can not ever recall hearing them in the morning in my life! Cool. Looking out the window for my first glimpse of the Pomys grounds.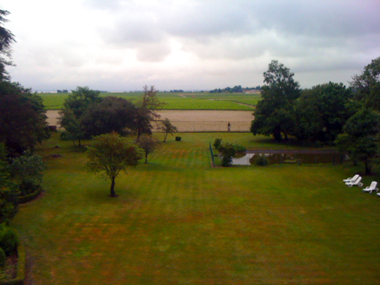 It was pitch black when we arrived the night before. 9am departure on the schedule, so I hustle to shower, pack up and head down by 830 so I can grab a bite of French breakfast. I confess I've become addicted. I never eat much in the morning at home, usually just a lot of coffee. Maybe a half bagel with cream cheese. Today, I scarf down Croissant with fresh butter and jam, wonderful toast (croutons) with amazing Fromage blanc, and dark rich espresso coffee. As we approach 9, only April shows up to join me. The pattern will be obvious. Only April and I turned in at something close to a reasonable hour. We never could find the rest, who "might" have been up the tower. Intrepid Charlie shows up with the bus spot on time at 9 despite the hour plus drive from Bordeaux. His British stiff upper lip never wavers, nor does his wonderful sense of humour. (Yes spell check, I mean to spell it that way….)

Ward, disheveled and blurry looking makes his way down. The tale of the night before spills out. Suffice it to say, it involved copious amounts of wine consumed. Everyone's room, except mine, searched for wine bottles, excursions into the darkness, jumping spiders resulting in Megan's darkness piercing shrieks, and Mutineeer Alan getting stuck in a tree and throwing rocks at the only lighted room in the place trying to get their attention. Turns out that room was the one next to mine, Alan's own room where he had left the lights on! Some other tale from Ward about him dancing around naked in his room listening to his iPod and a mysterious stranger wearing only a towel looking in the window from the balcony which ran the length of the hotel rooms outside. I felt like the one chaperone at a college dorm party…Ah well, yr mst humble & Obdt Svt here doesn't heal from an all night drunk as well as the twenty somethings do. I was happy to be alert and having breakfast. I felt a little like the one guy not picked for the team, but once the others straggled in looking like hell run over by a truck, that feeling disappeared. Charlie becoming cross and seeming perturbed for the first time all week when 9:30am rolled around and 2 of us (who shall remain nameless but aren't Wine Buffs) were still not down. I had to run up and knock on their doors.

Now, the reason for Charlie's perturbation was because we were supposed to BE at the first stop by 9:30, and our schedule had only allowed us thirty minutes to get there, yet the actual drive time was 45 minutes or more. So, we start our day WAYYYYYY behind schedule. More details of the escapades of the night before roll out during the drive. Finally, we end up at a tiny winery in Cadaujac, in Pessac--Leognan, Graves. Chateau Baulos-Charmes. A handsome late twenty early thirty blond guy greets us as we arrive 90 minutes late.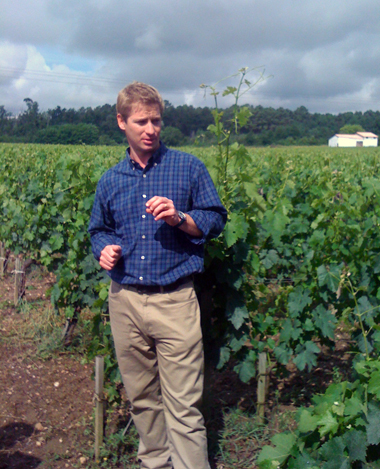 Sean Mathys-Meynard is proprietor and vigneron. The property is only 8 acres. He is devoted to organic and sustainable agriculture. His passion is to work the vines daily all year, so that he does not have to work in the winery after harvest. I instantly like this guy. He is this wine guy's wine maker. A 180 in attitude and passion from yesterday. Sean has worked the vines alone for three years, only recently hiring an apprentice. He quite literally could be placed blindfolded anywhere on the property and only by looking at his feet tell you within five meters where he is. He can blind taste wine from any one of the 155 barrels in his chais and identify the exact barrel. We spend a lot of time in the vineyard, listening to him talk about the vines and soils.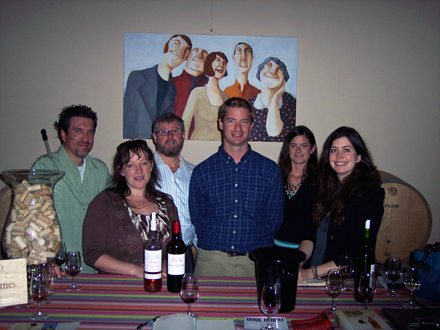 The more I listen to him, the more I like him. He is so much the "new" Bordeaux personified. You just want him to succeed. The wines are good. 64% Merlot, 35% Cabernet, and literally one row of Cab Franc. Solid, dark cherry tones, nice earth and clean acidity for the Grand Vin. The tannins are very elegant and integrated. Most pleasant to drink. Tiny amounts made, of course. These are Merlot based wines that I LIKE! Nice to drink now, but easily cellars for ten years. Sadly they don't make it over here. More epic pics from Mutineer Ian in the vineyard, and we are on our way again. We leave there at 12:45 to arrive just short of two hours late at our next stop.

Chateaus Lusseau. I fall in love with the place the moment we pull in behind the wonderful old pile of a chateau. It just reeks of family and honest lack of pretense. Berangere Guyellien and "Maman" greet us. Maman clearly not pleased we are late. Berangere is smiles and gracious. We take a quick walk around the vineyards. The Semillon section are 75 year old vines. The rest are 35-50! Wow. We have to drag Rebecca out of the rocky dirt and into the cellar to taste. Berangere has laid out not just her wines, but a selection of ten or so wines of her neighbors as well, so that me might get a feel for Graves as a whole. The down to earth, meatiness, gravel, clean, pure flavors resonate. An amazing hors d'oeuvres spread delights as well. Maman in and out while we taste, still annoyed at how late lunch will be. We hurry through the Graves, and head into the Chateau itself for lunch.

Chateau. The word conjures up huge imposing palaces of stone, Baronial halls, walk in fire places, bedecked with ancient tapestry. We had seen some of those. This Chateau however, is a home. Cozy, warm, a little frayed here and there, cat dashing across the hall. All very inviting and real. We fill the dining room.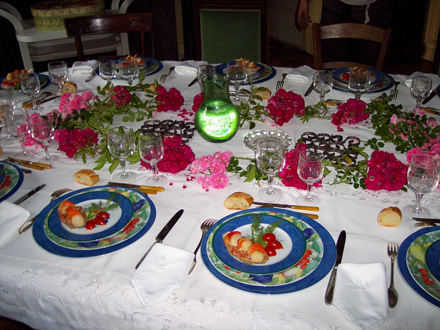 The table has been laid with old family silver, old family china, old family crystal, and a mountain of fresh roses and flowers from the jardin. I end up seated between Berangere and Maman.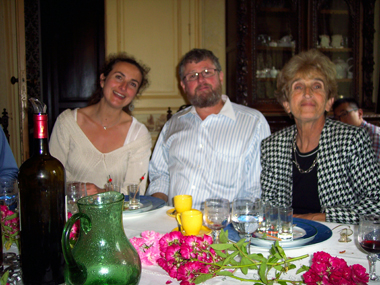 I fall in love with the both by the end of the first course of smoked salmon, and their wonderful steely Graves Blanc. Maman was a doctor, as was her husband, and they also ran the winery between tending to the health of the locals. Berangere was an attorney, who left the heady world of corporate life to return back home, and be the next generation to run the place. The rare Maigret of duck as the main course was "off the hook" goodness! I had thirds. Lunch was served family style. Everything about this place was family style. I love love loved it all. I had a great chat with Berangere and Maman. I could have moved in.

Sadly, we had to press on, and poor Charlie was looking as haggard and stressed as I had ever seen. Clearly, we were way behind. Now the really bad news. We have to cancel Ch. Carbonnieux. Ouch that hurts. Losing our second of only two Grand Cru wineries. Well, the lunch was worth it to me.

A quick stop at Haut Nouchet, a newer winery in Martillac, run by a young winemaker. A lesser red and the Grand Vin. They were fine, nice. I wasn't excited by them or the place. I kept thinking "we missed Carbonnieux for this??" I must be gracious. They were trying very hard. I spent most of the time wandering the beautiful gardens and watched Megan run across a huge field of wild flowers, like a little kid. That was cool….

Back to CIVB for a "Master Class" in Sweet Bordeaux. I can now say I know everything there is to know about Sweet Bordeaux. I know I like it, in small doses before dinner, with Foie, or as dessert….

Then on to a really cool wine bar, to watch France get trounced by Mexico in the World Cup. I was far more intrigued by the wine pouring machines. You buy a debit card from the bartender, then wander around the machines with bottles under argon gas, that dispense 2oz, 4 oz or 6oz pours (ok they were metric pours, but I can't remember the metric amounts, ok??) and show you what each size pour of each wine will deduct from your card. Pretty cool huh? I loved that one could try '03 Lynch Bages for only 4 euro a small pour.

Now, we really ended up missing dinner. There were only app plates at theWine Bar. I was starved. I begged the others to stop and eat. They decided not to eat, but instead head to a bar. Well, I wasn't in the mood to eat alone, so I just went along with the program. It was a lot of fun actually. I'll spare the details, but let's just say my part involved three half liters of Leffe Blonde, some shot of something at a bar and two vodkas before stumbling back to the hotel around 3am…

I love Bordeaux.
Last Day. Quick up and back to Blaye Cotes de Bordeaux. Then lunch and some video taping at the CIVB and more pictures from Mutineer Ian. Got to see an amazing sight. Hanging out at the Bar a Vin at the CIVB in the afternoon, who starts swarming the place but the Commanderie des Seigneurs de Bordeaux!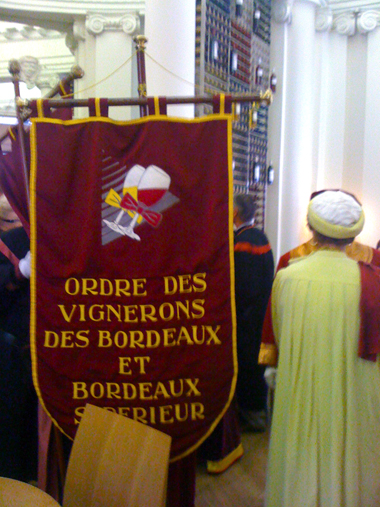 Yes the Renaissance garbed elders from all of the regions of Bordeaux! Off the hook. Evening at a truly amazing wonderful wine bar "Bo Bar" with Freddie from CIVB. She's great. Great off the wall wines, in a teeny tiny place on a storybook square.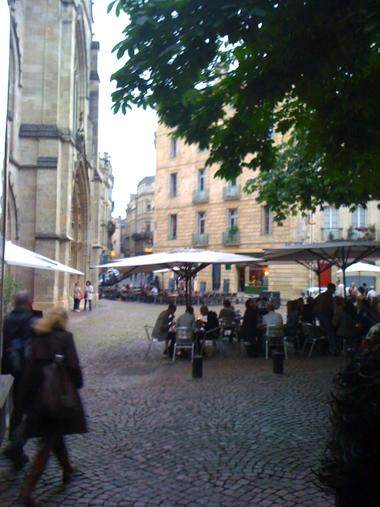 Then, finally, a fabulous seafood dinner on the Quai. Plateau de fruit de Mer! yumm.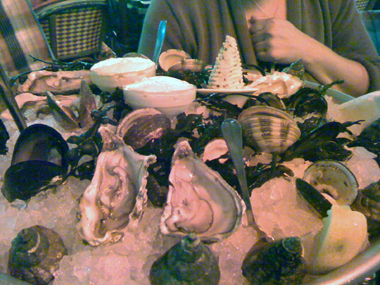 Thank you CIVB. Thank you P'tite Fred. Thank you Barbara, and CF peeps. Thank you Buffs and Mutineers. I will not forget any of this week, nor any of you.

Yr. Mst Hmbl & Obdt Svt,

Rob Moshein
Austin Wine Guy