Rob Moshein - Austin Wine Guy
AWG in Bordeaux Day 4
June 29, 2010
Wednesday: The long and Winding Road…
Off to Haut -Medoc in the pouring rain! First stop is Ch. dAgassac, a huge ancient real castle,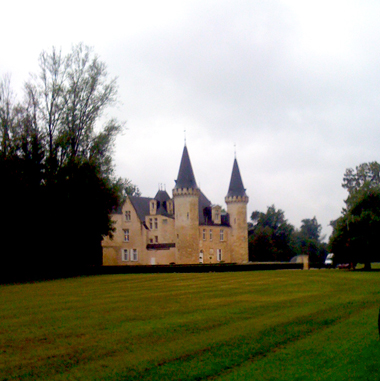 it even has its own moat! We also all suspect it is haunted, though nothing worthy of TAPS occurred. Met in the rain by Jean-Luc Zell the winemaker.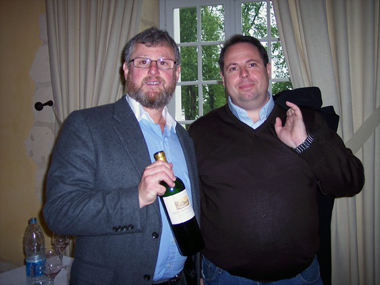 Austin Wine Guy and Jean-Luc Zell at Ch. D'Agassac
Cru Bourgeois Superior Classe. The facility is a state of the art one. Shiny, new and clean. The property had languished for a decade in bank receivership, selling out bulk wines. The new owners have re-purposed the place to produce good quality, modern Bordeaux with a deep respect for their heritage. Luckily the vineyards are between 20 and 40 years old. They even have iPod tours and iPod games for the kids. Eventually the goal is to make the property a destination.
The wines are good. Elegant, sturdy wines, about 50-50 Merlot - Cab. Nice dark cherry tones, bright acidity and a lively modern style. I liked them all. We had a lot of fun with their "entry level" wine, call "L'Agassant" in French, meaning the "devilish" one. which we all agreed should be labelled for US markets as "Kique D'agASSac" as it was kick-ass! At under $20 on US shelves it would do well, should it ever arrive on our side of the pond. It showed a playful bright fruit style, friendly acids and medium elegant tannins. The Grand Vin was classic Medoc, nice rich nose of cherry and meaty earth. Solid structure, again elegant and age worthy, but pleasant enough now. Very dedicated to being sustainable and exploring Organic methods. They are rejecting the old ways and experimenting with more modern, earth friendly techniques.
Off to Pauillac! More pouring rain, but lively chatter along the way among all the Buffs and Mutineers, Barbara and of course Charlie. Famous names are whizzing by in the rain: Lafite Rothschild with a huge crane looming over the winery as part of a major re do, Mouton Rothschild, sadly the Comtesse was in Paris so an impromptu and unannounced courtesy visit was not recommended by Charlie. A brief break in the weather as we pull up to…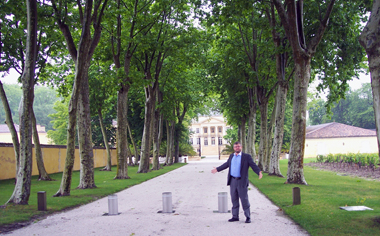 Château Margaux! Just a brief minute for a few photos. Ahh Margaux…Sadly no time (nor more saliently no appointment) for degutastion. Now every Chateau road sign is a familiar name… We pull into the hamlet of Bages, long neglected and restored to storybook charm by the Cazes family. Lunch at Lavinal, the restaurant owned by the Cazes family and next door to Lynch-Bages itself.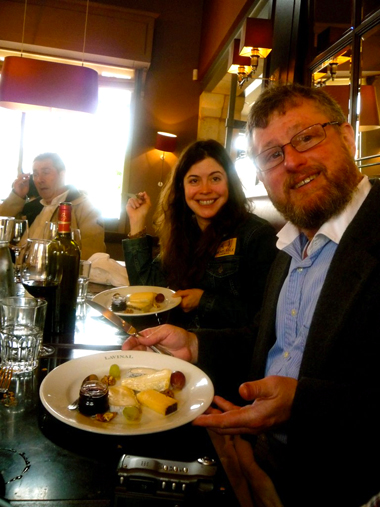 Fellow Wine Buff Rebecca Chapa and yr mst hmble & Obdt have a cheese course at Lavinal
A lively bustling place where we have a lovely and brief (by French standards, only about an hour and 20 min) lunch.
Off again, to Ch. Fleur la Mothe. in Pauillac. Greeted by Henri Boyer one of the trio of professional consulting oenologists who bought the property in 2008, and are now making their own wines.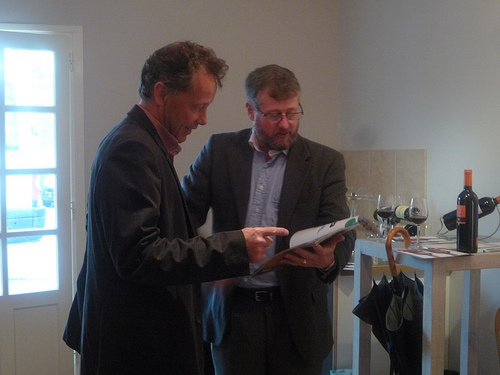 Henri Boyer and Austin Wine Guy

Another small property, perhaps 13 hectares. They are quite dedicated to the terroir and the vineyard has both the hilly, quartz, gravel, sandy soils which are perfect for Cabernet and some clay lower plots where Merlot thrives best.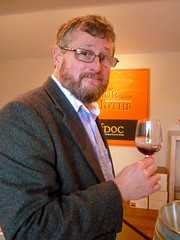 This is NOT the photo Ian took. That one is MUCH better.
Again, the vision of dedicated vine work all year long, with less needed during the winemaking process itself. The wines are quite nice. Dark, rich, nice earthy tones and cherry fruits, a racy acidity and elegant tannins. These would also be a hit, if available here, which to our consternation they are not. Another sad moment when kind M. Boyer offers me a bottle to take home. I am now cursing the day I decided to pack my soft sided folding suit bag instead of a hard shell suitcase. DAMMIT. Ian, the Mutineer and epic (a new word I learned on the trip; it means really great) photographer. grabs me and we go off into the barrel chaise for some pictures. The dramatic lighting and rows of barrels are a perfect backdrop. He takes one of the best pictures of me ever, I hate pictures of myself usually. This one is the best I've seen in 20 years. Sadly, I don't yet have a copy.
Back down again to Pauillac for our ne plus ultra visit at Lynch Bages. The most slick, modern and elegant place we visited, of course. Also, while the most interesting wine wise, was also the least "fun". There was zero personal connection here. The young lady giving us the tour had only been working there since September. She couldn't really answer our more technical questions. She was most professional and courteous, yet, well, it lacked the "sympa" of elsewhere. The old winery from 1855 is a museum. Mutineer Ian doing some cool shots there with the ancient equipment and we Buffs. Off to the tasting. OK, this part is epic (see, Alan, I'm learning). A clean glass for each of the 11 of us for each of the Five wines we tasted.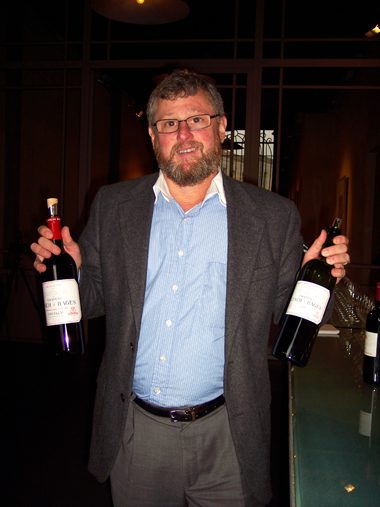 My inner man started doing its "happy dance", well I guess the outer man did as well, Barbara noticed! How bad can life be with a bottle of Lynch Bages '01 in one hand and the '09 in the other?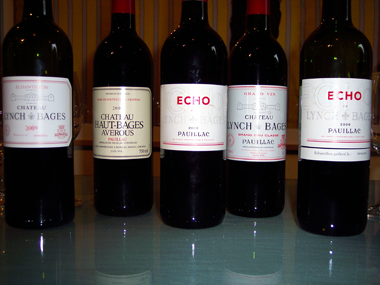 What's not to like about Lynch-Bages? It is always a great quality wine. Supple, rich but never heavy. Signature dried cherry tones and great acids. Fabulous depth but never leaden on nose or palate. The 09s, well, sadly, live up to the hype and press. Worth the money? Well, the 1st tranche release prices are $150 per bottle in the US, expect it even higher later. They are great wines, They should cellar well and be great to drink around 2015 or so. I find it hard to get really excited by wines over $125 max, as the huge increase in price delivers only a minimal increase in sheer quality. The first growth prices will hover around $1000 per bottle when they hit the US market. I suspect only investment bankers and billionaires will be buying most of them. The great news is that there will be hundreds of smaller chateaux who also produced killer wines (read as "epic" for the younger crowd) which will be $20. THESE are the wines you should be looking for. As I said to one winemaker, "every idiot and his brother made great wine in 2009. The real skill is making great wine in a difficult vintage." Now, the hype and over inflated prices will, as a result, make the 2008 and 2007 vintages much more affordible. Invest your money in the better producers who still made really good wines in these overlooked vintages and you will have a much better bargain than the high profile 2009 wines. Don't always buy into the price hype of upper tier Bordeaux in superior vintages. Great wineries always make great wines year in and year out!
Next stop was up to St. Estephe, to Chateau Serilhan. A family property, who's current owner was a Corporate executive in the US and Europe, who inherited the place. Didier Marcelis is a direct, engaging man, with a clear sales pitch.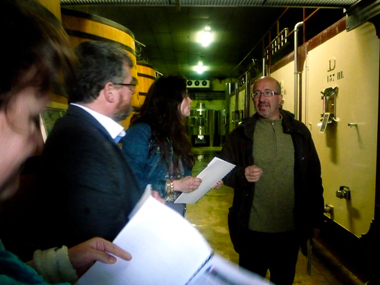 He is not the winemaker, nor does he tend the vineyards. He does market the wines and oversees the production to his standards. He makes no bones at all about trying to design a "Parker Palate Pleaser" and is clearly focused on pleasing Robert Parker and James Laube's palates to earn high scores to boost his sales and hopefully his price. I appreciated his honesty, and blunt statement of his mission. His wines weren't my style, no big surprise. They were a hit with the Californians among us. Again no great surprise. They were overdone, dense and woody. He is not "my" kind of wine guy. He does, however, reflect a large part of Bordeaux today. A fact which I can't escape, nor can I disparage it. I don't like it, but the reality is there. I did rather like his Art Deco labels, which I found a refreshing and elegant departure from the "classic" Chateau engraving and Roman Type face labels. I actually liked him as a person, clearly intelligent, funny, and passionate in his own way. It was a classy touch to hold the tasting in the dining room of his house instead of the winery across the street.
He graciously hosted us for dinner. We drove up to the northern most tip of the Medoc to a lovely spot on the Gironde (la Riviere). p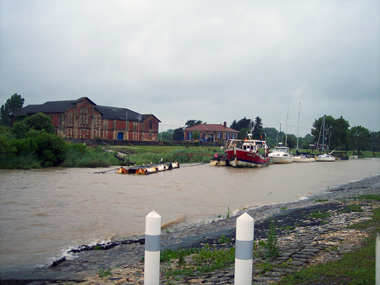 La Maison du Douanier is a modern style, glass walled cosy place. We all had wished the rainy weather had cleared so we could enjoy the rolling lawn overlooking the Estuary. Wonderful food and wines, yet another great meal. Poor April just about lost it with laughter. Seriously, tears rolling down her face for a good ten full minutes. It was that kind of meal.
Off into the late evening darkness back down to Saint Estephe for an overnight at Chateau Pomys. A rambling 17th century Chateau which had once been the hunting lodge of the Seigneur d'Estournel and part of the larger property where Cos d'Estournel winery still stands, sans a chateau proper. There is talk, we heard, of Cos reuniting the two together. Arriving around midnight, we find that we Buffs, Barbara and Andrew from Creative Feed, and Mutineers are the only guests. Yep, ten people alone in a three story Chateau/hotel, overnight. Now "if" some people had decided to explore out into the darkness, they "might" have found a way to break into the ancient stone tower and they "could" have clambered up to the top. Now, I was the reasonable one, heading to bed instead of staying up all night drinking wine and rowdy horseplay in the darkness. Ok, that's partly because I couldn't FIND the others, but also, the responsible elder in me was dead tired. I don't recover from an all night drunk as easily as the 20 somethings. However, it WAS hilarious to hear the next morning that Mutineer Alan was throwing rocks at a third floor room who's lights were on trying to get their attention. Alan's room was next to mine, so I revealed that he was throwing rocks on the windows of his OWN empty room! It was that kind of night.
And so to bed, while the frogs croaked in the darkness, and the occasional scream of Megan's from jumping spiders breaking the bucolic night.
Cheers,
Rob Moshein
Austin Wine Guy