Rob Moshein - Austin Wine Guy
AWG in Bordeaux Day 1 & 2
June 22, 2010
Hi guys,
For you who read the first blog from Bordeaux, and find it missing, there is a reason. First, I had intended to blog daily in real time from Bordeaux. That just didn't happen for reasons of really long days, early starts and spotty availability for free wifi!
Secondly, and more importantly to me, the Sunday New York Times travel section, the morning after I returned from Bordeaux, wrote up a piece about Bordeaux. It seemed a major omen to me. Plus, I had three hundred pictures to download and edit so, I really just have to do this after the fact.
Reprise:
Yr. Mst Hmbl & Obdt Svt here arrived yesterday, Sunday noon after 17 hours travel time from Austin. Whisked off to lunch at the beautiful Louis XV Opera House in the middle of the old city. Foie Gras and simple yet perfect roast chicken. Not a bad start.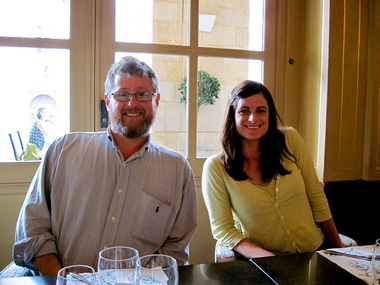 Yr mst hmbl & Obdt Svt here and Megan Wiig, Wine Buff Chicago, fun person, and major Wine palate!
A couple of hours walking tour starting in the rain, but who cares? Weather turned sunny and warm as we walked along the quay and explored this ancient beautiful city. Amazing architecture, and an ambitous city plan to renovate and restore the old town.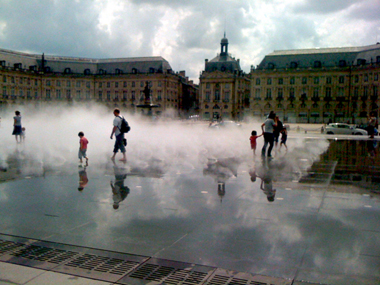 Mirror Fountain in the Place de Bourse on the Quai

Little squares and parks everywhere and the old black surface of the local limestone buildings being cleaned to restore their pastel tones of cream and ochre.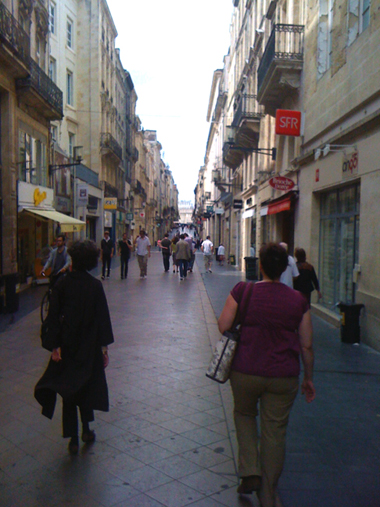 Dinner at Chez Jean: thin sliced Coquille St Jacques drizzled with vinaigrette and fleur de sel. Yum. Roast beef wrapped in caul fat with foie gras sauce. Four more bottles of wine.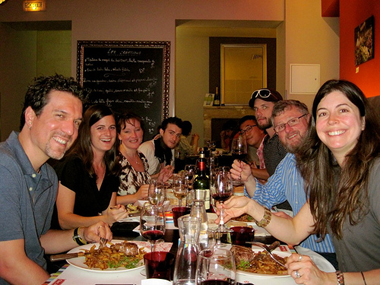 Tous les Wine Buffs @Chez Jean: (l to r) Ward Kadel, Megan Wiig, April Bloom, Ian, Andrew (creative feed) Alan Kopf, Moi, Rebecca Chapa

After 32 hours with only 2 of them asleep, Crash and burn around midnight.
Monday a whole new person arose. Typical French Breakfast with the other Wine Buffs. Off to Entre Deux Mers. Chateau Ste Marie and owner winemaker Stephan Dupuch.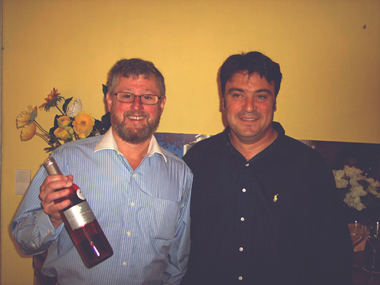 Classic, elegant wines, I especially loved the Clairet and Rose 2008, but don't count out his Entre Deux Mers and his Reds. His theory of Entre Deux Mers: treat it like a woman: Sauvignon Blanc is the body, Semillion her dress, Muscadelle her makeup. As for the reds, don't EVER ask about Cab Franc. DO insist on trying the Clairet. Clairet is the "original" claret of England, shipped over by Eleanor of Aquitaine on her marriage to Heny Plantagenet and quickly adored by England. Now it refers to all red Bordeaux, but Clairet is an amazing wine which I had never experienced before because it is sadly not available much in the US. I intend to change that it my own small way. Think Rose on steroids. Dark clear garnet color, a nose of huge fresh dark cherry fruit and a light, lively palate of light spice and fruits all so clean and crisp. Perfect for Texas Barbeque and back yard grillin y'all. Perfect for those hot languid days of summer when your food calls for red, but your mind tells you you don't want something heavy and tannic. Think Clairet!

next up: Ch. Bonnet, the ancestral home of Andre Lurton. Greeted at the gate by M. Lurton HIMSELF! 86 years old, but spry, funny and clearly as passionate and driven about wine and Entre Deux Mers today as he was fifty years ago.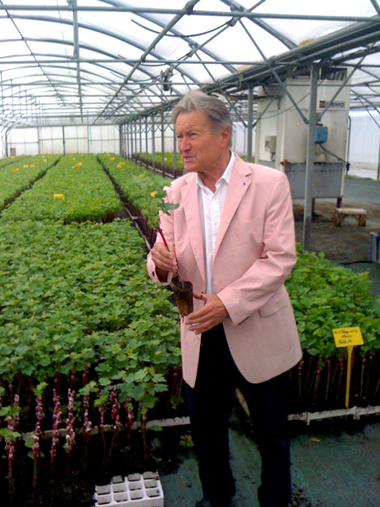 M. Andre Lurton showing us the new vines growing in the greenhouse. Grafts from the Chateau are put onto bought in rootstock.
What a treat to tour the property with M. Lurton keeping up a brisk pace leaving the 20 year olds lagging behind. Finally, in the winter garden, built by Grandpere Lurton by his own hand one hundred years ago, we set about tasting the wines.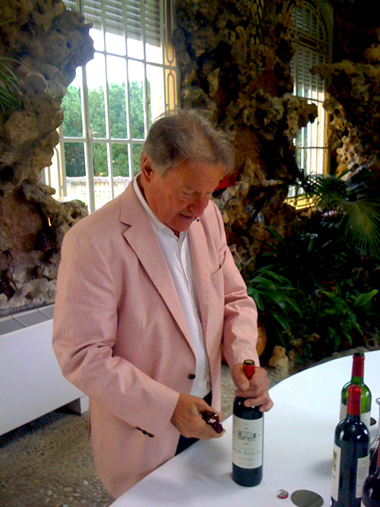 All crisp, clean, elegant, and full of flavor and life, like M. Lurton. Bonnet Blanc is a refreshing, crisp white with fine minerality and citrus fruits.The rose he calls his clairet because his color is a bit light for clairet but he insists it be so. La Louviere is Pessac Leognan personified, fresh dark lush fruits, nice acidity and dark cherry tones abound. We are led down a well worn tile floor hallway to an enormous wood panelled dining room from the turn of the last century. M. Lurton holding court and presiding as le patron at table. Everything on the table comme il faut. REALLY don't ask Andre Lurton about Cab Franc. I mean that. The food, flawless. Home made gravalx with caviar cream,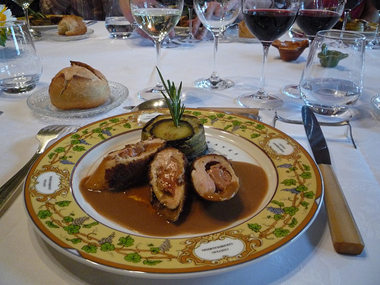 chichen breast stuffed with foie gras in a pan jus so delicious we all agreed we could bathe in it. Cheese course to die for.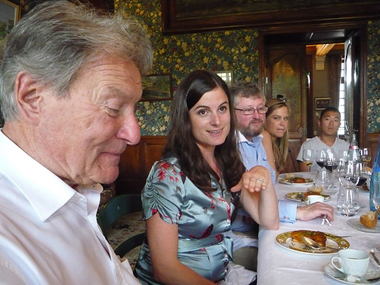 M. Lurton took a special "interest" in Megan. Most men in Bordeaux did for some odd reason...
Special wines are brought out by M. Lurton himself, a 1982 Ch. Bonnet rouge, aoc level, nothing more, that was amazing and great. Dried cherry, nice acidity and a lightness that danced, yet flavors abounded. A one off botrytis Sauvignon Blanc followed with dessert. M. Lurton himself whips out his cellphone, to call our next appointment, announcing he is keeping us and we will be late. So gracious, friendly, charming and fun. We all wanted to adopt him as another grandpere!/p/blog/BDX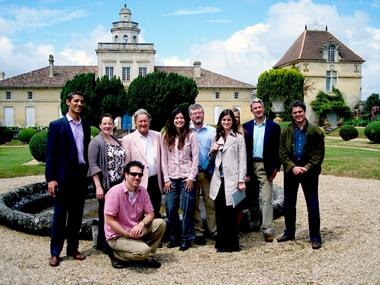 All the Buffs, and Charlie Matthews, guide extraordinaire! with M. Lurton at Ch. Bonnet

Off to St. Emilion. Ch. les Laurets, a once languishing property, bank repo in the 90's, purchased by Baron Benjamin de Rothschild, and comprising the largest land holding and planting for a single St Emilion property by a factor of five or six times. The beautiful chateau from the1860s sadly empty.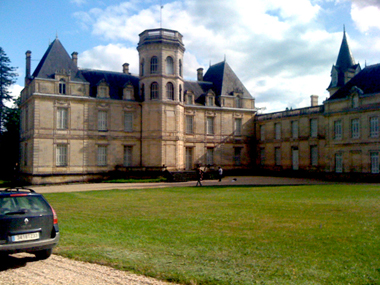 The chais, caves and wine room stripped and redone state of the art in 2004, to an elegant, simple but effective state, clearly a substantial investment by the Baron, indicating his commitment to the Chateaus. The two wines, predominantly Merlot based (we are on the right bank after all) are substantial, beautiful and just plain good. The "lesser" now available in the US at around $25 is a major bargain for the quality. The upper tier wine "Les Laurets de Baron Edomond de Rothschild" is frankly kick ass fabulous. Doubt you guys will ever taste it sadly, only 14,000 bottles for the planet, but still only about $50 if you could get any. Oh, did I mention we got to try the 2009 from barrel? Oh, yeah we did. The fruit is powerful and fresh, the acids and tannins pronounced as expected for a baby in barrel, but you can tell, the 09 hype is for a good reason. It will kick butt.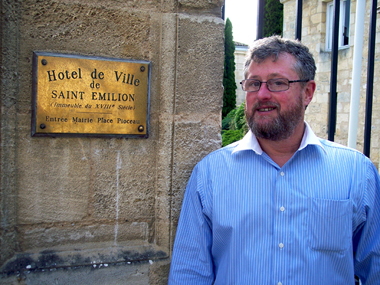 Off to St Emilion town. A medieval postcard place that would make Disney jealous for its charm, elegance and appeal. As the sky darkened and sunlight streamed through fluffy clouds, a rainbow appeared over the Bordeaux Tourist Office view from the Church at the top of the hill over the rolling vineyards below.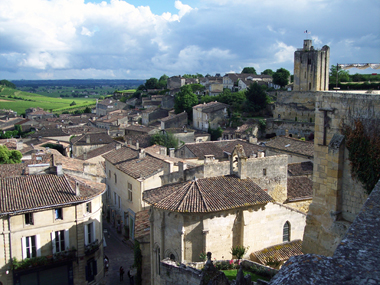 WOW. Seriously, Wow.
Dinner with Les Buffs at Restaurant l'envers de decors, right at the church square. A hip, comfortable elegant place, warm and inviting. Dinner was more Foie Gras, then rare duck breast with new potatoes roasted in duck fat and vegetables confit. Wow.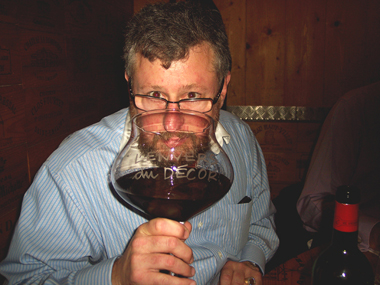 I finally found a glass that's MY size (ok its really a cool off the hook decanter...)

Each meal keeps surpassing the previous for quality and tastiness factor. Four more local wines of course, and we all turn into a loud, laughing raucous group of ten, eating great food and drinking great wines, laughing and having a blast. Serious time kiddies.

Back to Bordeaux at midnight, dinners here last for a three hours but time passes in a heartbeat. and so to bed.
Cheers and a bientot!
Rob Moshein, Austin Wine Guy
For another Buff's awesome perspective on the trip, check out Ward Kadel's blog: http://www.winelog.net/blogs/drxeno/2010/09/10/le-wine-buff-in-france-bordeaux-day-2