Rob Moshein - Austin Wine Guy
AWG does NYC
April 01, 2011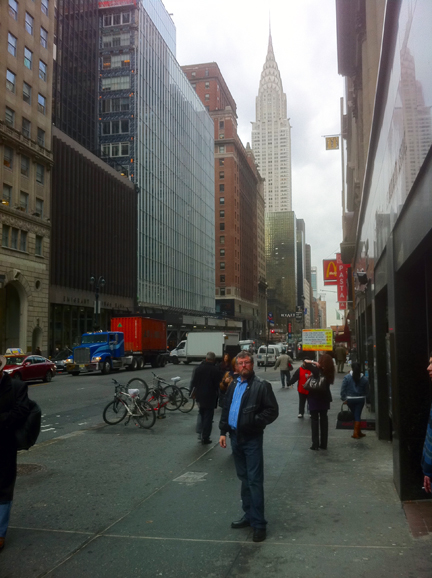 So Gentle Reader, yr mst hmbl & obdt svt sits here on the floor of the American Airlines terminal at JFK airport, taking advantage of the only free outlet plug I can find, musing now upon the whirlwind 48 Hours that was AWG in NYC.
Arrived Tuesday afternoon, in preparation for the Snooth.com event Tech-Enology meet up. Dined "en famille" with some of Le Wine Buffs and dearest Barbara at a little French place, Bistro Charbon.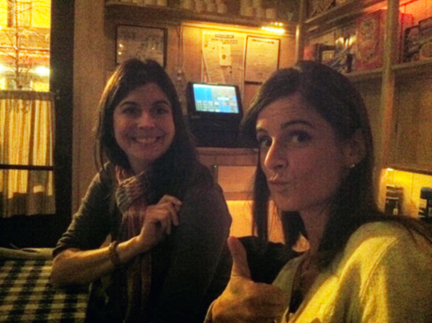 Buffs Rebecca and Megan at dinner
Lots of wine, lots of laughs and Coq au Vin. Then on to old fashioned Trader Vic's style Tiki Bar drinks at some SoHo place called Kana Lani. Pretty cool. Most un-Wine Guy of me to indulge in a Scorpion or three...
Wednesday morning headed back to SoHo with Wine Buff Ward for a blind tasting of New York Finger Lake region wines, with a few non New York bottles tossed in to keep us on our toes. Twenty six wines, blind, five flights. Two wines were pretty good, one of them was from Alsace, the other Oregon. Two wines were so bad, so undrinkable I gave them a 0 on the Master Sommelier scale. Most were pretty mediocre. Nothing that good. Sadly, I was told that this region has come "light years" in the last decade. I'll wait another decade then, at the speed of light. Wacky adventure then ensues, with Ward and me walking some twenty plus blocks to Katz's Deli. I just needed to feed my major Deli jonesing. Ward gamely obliged and I am much indebted to him for his good nature and humor and patience in so doing! Cab it all the way up to the Upper East side to Wine Buff Megan's tiny place on 85th St, where we shared Pizza, Corned Beef, Cold tongue and pickles over wine. I hoofed it over to the Metropolitan Museum of Art, another must do for me when in NYC, where I wandered among the amazing works of art, indulging myself further in the ancient Roman and Greek sculpture, the French decorative arts of the 18th century (jaw dropping silver and period Jacob and Boulle furniture re-installed in genuine period rooms, lit accurately to resemble natural daylight or evening candle light. Wow. Then up to the paintings galleries: Goya, David, Velazquez, Watteau, Bougereau, Latour, Winterhalter, John Singer Sargent, Renoir, Picasso, Monet, Manet, Van Gogh, Utrillo, Rembrandt, Ter Hoogh, den Hoogh, Cezanne, Courbet, Gaugin, Degas and on and on.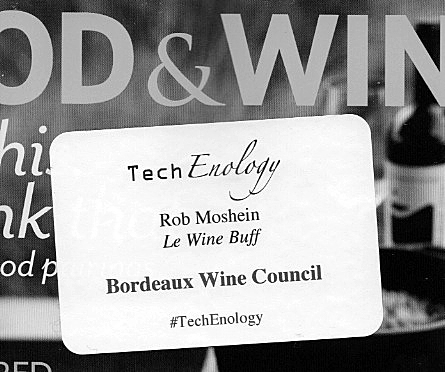 Wednesday evening was the event itself. Held at General Assembly, a tech think tank in midtown, Bordeaux was one of the sponsors. Full disclosure alert: the Bordeaux Wine Council paid my way to New York so I could attend the event, as Bordeaux was a major sponsor. I put on my Le Wine Buff hat and Bordeaux Wine Council name badge and schmoozed nice folks from Snooth, Google, PC Mag, Ziff Davis Publishing, Food and Wine Mag, John Cobb of Publishing Group of America, and a host of others while sipping a nice cross section of affordable Bordeaux wines (about half I chose for the event): Lafite Reserve Speciale Medoc, Ch. Bonnet Blanc, Carbonnieux Bland, Ch. Lusseau Graves (instantly bringing back memories of Maman and lunch at the Chateau en famille for me and all the buffs), Monbousquet, Very cool crowd, nice chat, and I was blown away by one guy's app that puts a little ring around the neck of a wine bottle and sends an automatic Twitter tweet every time the bottle is poured! Very cool. I think it was a successful event and everyone there was a happy camper.
Around the corner for late dinner at Craft. OMG Gentle Reader, OMG. Tom Collichio deserves every ounce of cred as his role of Judge on Top Chef as this man delivers it on the plate. Flawless dish after flawless dish after flawless dish arrived at the table to be shared family style. All agreed that a large party such as ours, was the best way to go, so that everyone could order something different and share the plates. My duck was off the hook, as were the Trumpet Royale mushrooms, simply grilled, but sheer mushroomy perfection, the venison, sturgeon, potato au gratin, bok choy, well hell, everything was simply perfect and simply delicious. The others deferred to me to select the wines. ( I had to confer with Barbara, not wanting to cause a nose bleed to the accounting department the next morning, as while the list is outstanding, the list seems to be weak in only one spot: bottles less than $100 each!) I chose wisely: de Monthille Montagny 1er Cru 2007, a real steal at $70, even the jaded "I hate Chardonnay" drinkers had to admit the wine was amazing. Crisp, clean, structured, with great minerality and acids, long finish and pretty, engaging nose. Out of the park with that one. Chateau Les Hauts Conseillants, Lalande de Pomerol 2006 for the red.Lovely, silky smooth and elegant; perfect with the mixture of duck, venison and assorted sides on the table. How cool to be sent off to the night with a beautifully wrapped muffin! I'll go back in a heartbeat *defibrilator on hand when the bill comes.*.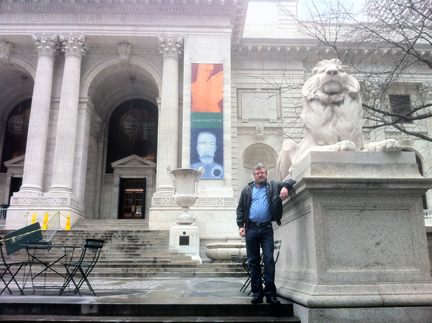 Last morning was a brisk walk of Mid Town with Ward. New York Public Library and the famous lions, and amazing interior, strolled up 5th Avenue,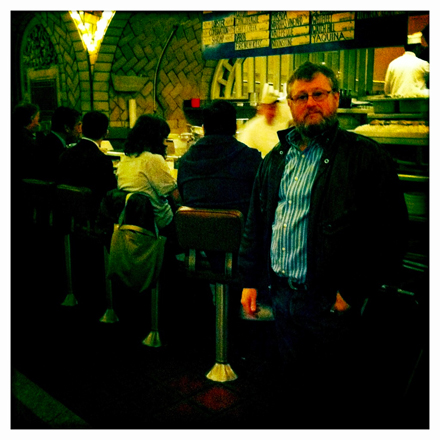 Hipstamatic photo courtesy of Ward Kadel!
then over to the Oyster Bar in Grand Central Station for a light lunch of Belons Oysters, my favorite kind, washed down with a nice crisp Sancerre.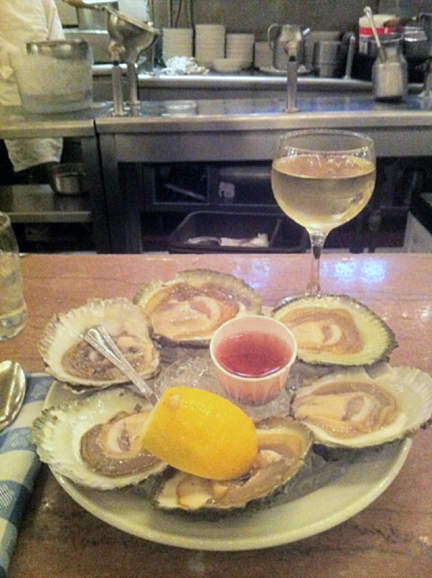 Thus, now back to me, sitting on the floor of Terminal 8, heading back to Austin and the real world.
Cheers,
Rob Moshein
Austin Wine Guy
April 1, 2011