Rob Moshein - Austin Wine Guy
Austin, There's a new Champagne Posse in Town.
December 29, 2011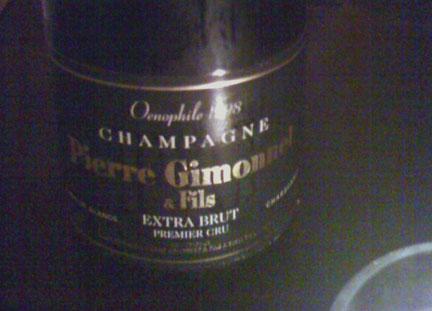 Quick, answer this question. Who produces Champagne in France, their names? I am certain you answered with at least one of the following names: Moët & Chandon, Veuve Clicquot, Mumm's, Taittinger, Perrier Jouet. Right? Of course, right? WRONG.

Those names are the "large house" producers, who buy grapes, wine or juice from 15,000 vineyard farmers and dump it all together and produce 80% of the total output of Champagne, but they only actually own 15% of the vineyard land! Despite this, they account for some almost 90% of all Champagne exports! For example, Moët produces some 2,000,000 cases per year. Veuve Clicquot over 1,000,000 cases. The end result, of course, is a pleasant enough product, which everyone drinks and which is a lowest common denominator style, similar to eating at national large chain restaurants such as Chile's or Outback. Nothing wrong, but not as good as a local spot with locally sourced products.

Two years ago, something different showed up in Austin area. "Récoltant-Manipulant" Champagne, better known by the letters RM which appear on the label of every bottle. RM growers are some 5,000 farmer producers who must, by law, use 95% of the grapes from their own land, or from adjacent land in the same area and make their own Champagne. Usually in quantities of only several thousand cases per year. About two years ago, names never heard before started to be seen on shelves and on a very few wine lists in town. Chartogne-Taillet, Henri Billiot, Gaston Chiquet, Pierre Peters, Jose Dhondt, I became a convert instantly the first time I tasted Pierre Peters Blanc de Blanc two years ago. There is a bottle of his Grand Cru Cuvee de Reserve waiting for me for this New Years Eve.

This year, the hot trend in town is RM Champange and it has its own Twitter hash-tag: #RMatx. It even has its own nickname: "Farmer Fizz". Austin is at the forefront of the Farmer Fizz revolution this year, and a small group of young, brave Sommeliers in town are the new Farmer Fizz Posse. Their mission is simple. "Spread the Gospel and Preach the Wisdom of Farmer Fizz!"

These RM "Evangelists" are led by Bill Elsey, of wines.com and TexSomm of the Year 2011, and Scott Ota, Director of Wine for the Driskill Hotel. I had the pleasure recently to sit down with them over a bottle of Pascal Doquet RM Brut Blanc de Blancs Grand Cru from Oger sur Mesnil, one of my personal favorite Champagne regions. We all found the wine rich and expressive, but not heavy, with a lovely fatness supported by solid acids and a light toasty tone. Perfect with food.

Scott Ota: "First and foremost, we love Farmer Fizz so much because it tastes so, so good. Best of all, it's cheaper than the large houses. In these times, we are always looking for great tasting product at a value to our guests, and Farmer Fizz delivers. In addition, with Austin's "farm to table" food movement, why not introduce the idea of "farm to table" bubbles? In my opinion, smaller grower-producers with control over their crops and wine-making create a more personal experience with the bottle and offers a greater consistency of quality."

Bill Elsey concurs. "Don't get me wrong, I love big-house sparklers too, like Bollinger, Pol Roger, Bruno Paillard and Charles Heidsieck. I'll never turn down a glass of anybody's Champagne. I started by drinking the big house producers. Once I tasted RM wines though, I suddenly realized that the quality for price from Farmer Fizz was much much better than the Big Producers. Grower-producers with control over their crops and wine-making create a more personal experience with the bottle and create a wine with more personality and character and that just makes for a better experience than the big producers that cost the same or usually more. The RM "Special Club" wines selected by the RM growers themselves to be "in the club" are really exciting and offer amazing quality and value."

Retailers are confirming the increase in Farmer Fizz sales in town. John Roenigk of The Austin Wine Merchant says that in the last two years, RM Champagne grew from zero and now accounts for about half of all his Champagne sales. He points to one he carries, Pascal Doquet from Le Mesnil sur Oger, and is very excited to have their older Grand Cru single vintage wines from 1995, $87.50 and 1999, $75. "When you look at the quality for the price, RM Champagnes offer terrific value. Where else can you get older Grand Cru single vintage wines for these prices? The ability to get Grand Cru vintage at these prices is a great value to the customer. Also, we've been doing this (Grower Producer) with Burgundy for years, haven't we? Finding a winemaker who is also the grower and who produces better wines than the large negociants. It just makes sense. Customers are really getting it." To illustrate John's point, other Le Mesnil sur Oger vintage wines are for example Pol Roger Vintage is $100 or more, their Cuvee Winston Churchill is over $200, Salon and Krug Vintage are both well over $200 and their Krug Clos de Mesnil is $800! More RM wines on the Austin Wine Merchant shelves are Gaston Chiquet, Henri Billiot, Pierre Peters, Pierre Gimmonet, Henri Goutorbe, and Guy Charlemagne.

Whole Foods downtown proudly offers Godme Brut Reserve, $46.99, Pierre Peters Grand Cru, $59.99; Camille Saves Brut Rose, $59.99, Jean Lallement Grand Cru, $66.99; and Varnier Fanniere Grand Cru, $73.99.

East End Wines devotes about half their Champagne selection to Farmer Fizz as well, carrying Chartogne Taillet, Henri Billiot Brut and the Brut Rose, and Marc Hebrart.

"We want to spread the good word, the gospel, about RM wines," Bill Elsey said. "We want to use whatever means we can to convince restaurants in Austin to carry more Farmer Fizz and to teach their customers about it. Look for some exciting special events featuring Farmer Fizz next year."

Scott Ota puts his money where his mouth is. "At the Driskill Grill, for 2012, twelve of the twenty Champagnes on my list will be Farmer Fizz, and half of them are vintage wines." He has already taken a brave and nearly unheard of step to demonstrate his level of commitment. He banished the major house Veuve Clicquot from the list this Fall, and replaced it with Pierre Gimmonet Brut. "It's a better wine and I put it on the list cheaper than Veuve Clicquot was, to prove a point. The customer will get a better wine for less money. I want them to learn about RM wines." Ota is not alone in this, June Rodil, Sommelier at Congress, has fourteen RM wines out of her twenty Champagnes on the list. Eight of the ten Champagnes at Haddington's Restaurant are Farmer Fizz.

Austin is embracing it, clearly. Ring in the New Year with some #RMatx, and make 2012 "Year of the Farmer Fizz".