Rob Moshein - Austin Wine Guy
Austin, The Bar has been raised! in many senses....
July 08, 2011
So Gentle Reader, Yr Mst Hmbl & Obdt Svt walked into Haddington's restaurant downtown last night, for the "media preview" meet n greet with the new Chef Jimmy Corwell, and to nibble some of the new food. Yes, another one of "those" events, but hey, I like Haddington's, been a fan since they opened, so why not? I mean, how can they follow an act like their opening one? Zach's bad ass food and Bill Norris' cocktail wizardry set new standards for Austin.
I walked OUT, totally stoked, encouraged, excited and impressed…Serious. This jaded cranky writer was ecstatic. Why? Allow me to explain.
Went early, as I was in the mood for a cocktail, it was "Africa Hot" out, and Bill Norris mixologist genius wünderkind seemed like just the guy to mix one up. Found out Bill and Haddington's parted ways two weeks ago, just days after my last lunch at the bar chatting WITH Bill. Best of luck to you at the new gig my friend! Alamo Drafthouse will be kicked up major notches by your wizardry.
Found myself in exceptionally capable hands of Brandon Burkhart, the new mixologist in chief and was quite happily rewarded with a "Moscow Mule" done with home made Ginger Ale and a Duckfat Sazerac finished with caramelized lemon zest! The inner man was happy, as the Oracle of Bacchus would say.
So, switched over to the wine with the food when it started coming out. I was intrigued by the selection they had chosen for us. Bodegas Muga Blanco 2010. a Garnacha Blanca Marsanne blend that was elegantly perfect for a hot summer evening in a crowded room. Melon, peachy tones, with a nice round body and bright acidity. Yummmm.
Chef Jimmy is good, really good. Classic training, modern ideas and clearly passionate. The nibbles were tasty. I look forward to the new lunch menu in two weeks. I'll be there!
Next Rosé from the Loire…Ch. Soucherie 2010, a Cab Sauv, Cab Franc blend with just the right balance of berry tones, crispness and fresh fruit acidity to also be a winner….
Then I asked for a Ch. de Santenay "Mercurey" '08, I was amazed at the selections they were putting out for a crowd of freeloading bloggers and freelance journalists, this stuff was good! Thus I asked the guy bringing the glass to me "who picked these wines?" the reply "I did"….stunned for a second…Thusly, I met Brian Phillips.
Wine Guy to Wine Guy radar pinging off the map, we start chatting. This dude gets "it". In spades. I asked to see the whole wine list, which he had recently changed from the old, decent and interesting list. As I perused the new list, "Wow" was all I kept thinking. Mr. Phillips has the testicular fortitude to do "the RIGHT STUFF" on his list. Not one "grocery store" piece of crap "La Crapola" or "Ken-Doll Jackoff" or "Boring-her White Zin" to be seen.
Nosirree Bob. Just a smattering of the selections on offer now at Haddinton's: Domaine de Montbourgeau Cremant de Jura (!), Guy Larmandier Brut Cramant (!!), Gimmonet "Oenophile" Extra Brut (!!!) Gaston Chiquet "Special Club" Brut…and THESE are just a few of the sparklers!
Bob Foley Semillon, Hexamer Sauvignon Blanc Troken, Skouras Moscofilero from Greece!, Max Ferd Richter Riesling Kabinett '09, Huet "le Haut Lieu" Demi Sec Vouvray (some already in MY cellar)! Boillot Rully Blanc 1er Cru, Quinta dos Roques Encruzado (long missing from the market and an old old passion of mine!),
(Not done gushing yet…)
Domaine de Monthille Beaune 1er Cru "Les Sizies" (also in my cellar!), Harmand-Geoffroy Mazis-Chambertin Grand Cru, Monpertus Counoise, Pradeaux Bandol, , Chave St. Joseph…well I could go on and on…
I asked Brian for a last glass and let him choose. He chose wisely! Chateau Simone Palette 2005 from Provence. I had heard of Palette as an aoc but never had one. Funky ancient looking label, totally retro 1950s.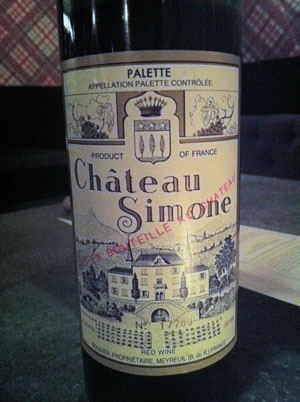 The nose screamed "Burgundy", all mushroom, forest floor and floral cherry. The palate was literally a flavor profile cross between Burgundy and Bordeaux! What the hell IS THIS STUFF? Delicious is what it is. Amazing, enticing, exciting. Brian and I are geeking out on it, until he is called back to duty on the floor….I'm left with the glass, in wine guy bliss…
Thus is the tale of how Yr Mst Hmble Svt walked out into the sultry Austin evening renewed, invigorated and optimistic about the Wine and Food Future of Austin. A bright one it is. Haddington's got game y'all. The bar has been RAISED! Bring it on!
Cheers,
Rob Moshein
Austin Wine Guy
Twitter: @AustinWineGuy