Rob Moshein - Austin Wine Guy
Austin, Downtown just got a little more "Urban"!
April 11, 2012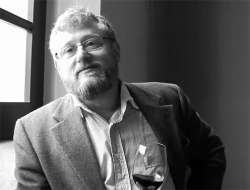 An old friend, Buckley Wineholt just recently opened up a new "fine wine and spirits" shop downtown. Not just "downtown" but at the heart of the action. Viz: 200 Congress, the bottom of the Austonian and right next door to Congress restaurant, David Bull and June Rodil's heartfelt homaage to all things amazing in food and wine. Not bad location.
Called simply "Urban". Clean, slick and urbane inside. Not over the top trendy, just modern and comfortable. The space is smallish, and so the selection is as well. However, after half an hour perusing the shelves, Yr Mst Hmble & Obdt Svt must admit, nicely chosen.
Now, there are some of the "customers insist I carry this" bottles on the shelf. Your Silver Oak, Caymus, Shafer (Dear Lord when will that awful trend finally die off?) however the bulk of the selection is under $40 and cool, interesting and not your typical liquor store or big box choices. I can relate to the price point and the attitude. It speaks volumes about Austin and the wine trend in general.
The spirits selection is equally well done. Mostly the small batch, boutique stuff. A few necessary items (although I must admit I lost a shred of the sheen when I saw Skol vodka on the shelf..."We just have to have it where we are. People ask..." was the answer. Well, ok, I get that. At least there was no Kentucky Deluxe or Evercleer!
One small drawback to the hip and happening location is the serious problem of parking. Now for all the downtown condo folks and hotel visitors, no issue. For those of us who have to drive downtown, Urban is worth checking out, when you can park.
Welcome to Austin, Urban. When you're all the way downtown, and looking to grab a fairly priced bottle of well chosen wine, or a cool bottle of spirit, Urban works.
Cheers,
Rob Moshein Austin Wine Guy