Rob Moshein - Austin Wine Guy
A Most Excellent Adventure
December 12, 2011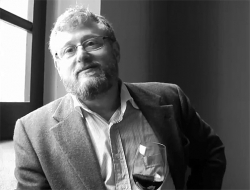 A few weeks back, Yr Mst Hmbl & Obdt Svt got an email. "Chevy Hill Country Drive" was the subject. I almost deleted it as spam. Chevy? what would they want with me?? Just for grins, I read it. "We're putting together an event during which you will be given a Chevy car for the week of November 30-December 7 as well as a $100 gift certificate to help you in your adventures. Explore whatever would appeal to you and your audience, it's fine with us! We would really like to have your unique perspective for this event. Four other bloggers from genres like lifestyle, photography, food and drink and mommy blogs will be participating in the event as well." My immediate answer was "Hell yah!"
Then, early on the morning of November 30, a brand spanking new 2012 Camaro SS Convertible showed up at my house!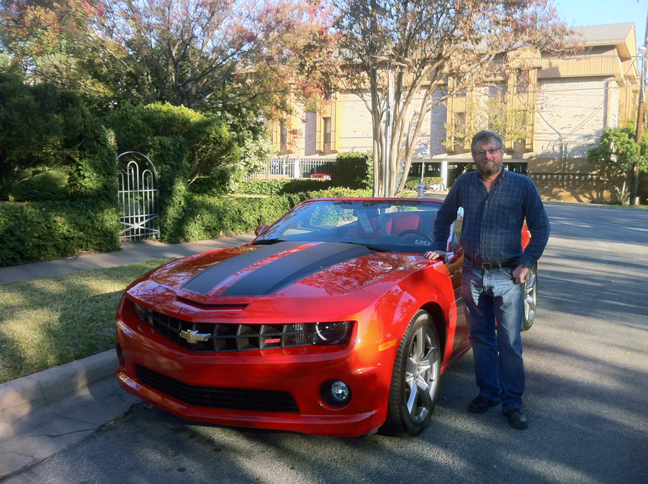 429 HP from the Corvette Engine! Solid handling, fun to drive and, well, fast. Observing all speed laws, of course. Cool features, like heads up display, back up camera, heated seats (totally required for top down winter driving!) and total blue tooth synch to the Sirius radio music system by Boston Acoustics. OnStar too. Two tiny drawbacks were the AC/Heat system that reset everytime you shut off the car, and doesn't have an "Auto Temperature" setting where you just set a temperature and the car does the rest. Every time I got back in, I had to go back and set everything again. My Lexus has the nice feature where I just set a temp. and be done with it until I want to change. With all the electric gizmo/gadgetry on this car, I was surprised at the 20th Century Climate controls. The other niggle was a persistant driver's door rattle in a car that had just 2000 miles. Otherwise, very cool all around. No fussy top, no awkward tonneau cover, and almost useable trunk space with top down.
That evening, the Chevy folks had us all to dinner at Soleil restaurant out on Lake Travis. Lovey spot, wonderful company and conversation and good wine and good service all over came the dismal food. Most excellent part was the top down drive home in the 45 degree evening, heat and Sirius classic rock station on high, top down, leather bomber on and the growl of the engine along the twisty road back to town were an awesome fun concert combination.
First day me and my Camaro went to the Driskill Hotel's 125th Anniversary Part and Holiday tree lighting. A lovely evening, nibbling excellent food, chatting, and drinking a decent Ch. Sancerre, before heading upstairs after the tree lighting to listen to music and drink some fine Gimmonet Brut. The Driskill really does it up well. There was even REAL falling snow at the entrance when the guests arrived! Charlie, Scott, Kyra, and the whole team are wonderful!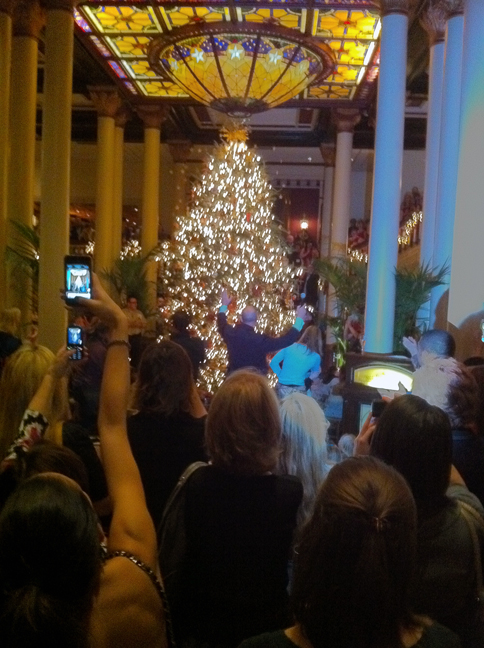 The "real" adventure was Saturday. Met my good bud Bill Elsey, TexSomm of the Year 2011 who works at www.Wines.com , to head out to the Hill Country to hit some of the up and coming wineries. Sadly, the day started off wet and cool, forcing the top up and Elsey to grumble. By the time we got to our first stop, the sun had come out to play, the top was down, and Bill was back to his usual self!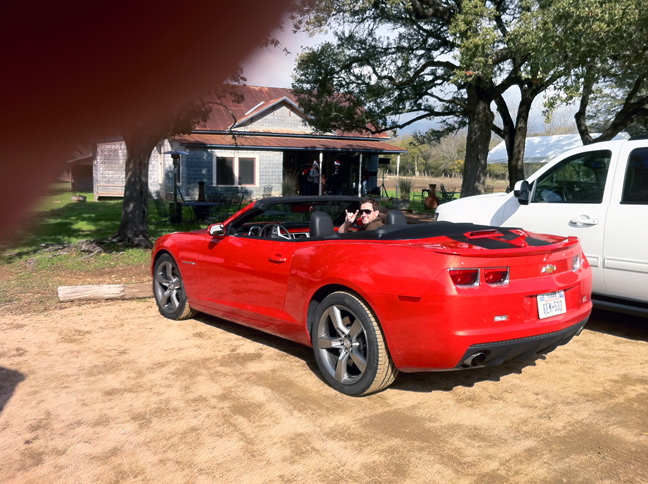 Elsey flashes the "Hook Em" at William Chris, the first winery. Lovely people at a lovely spot, who make high quality wines from only Texas estate fruit, in small quantities (only 300-400 cases typically). Their wines are really noted for their amazing clean character. No off flavors, no chemical or bacterial taint at all. Mourvedre is a rare varietal for Texas and it is a bold move they try it and succeed. They are to be encouraged, and while I found their wines clean, they also lacked some depth of flavor and character, especially at the price point. I have no doubt that these wines will only continue to improve in quality over the next years.
.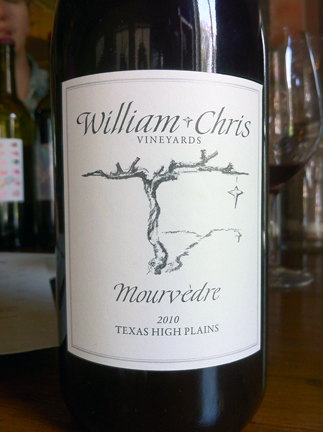 Bill knew a cool windy twisty back road to head to the next stop. 30 minutes of "Classic Vinyl" on Sirius, the engine growling and my occasional giggle of fun went by quickly as the Camaro was in its Happy Zone. The weather still played along, and Bill and I were having a good time. Then we hit Pedernales Vineyards (pronounced "Purd-en-alus" for you non-Texans).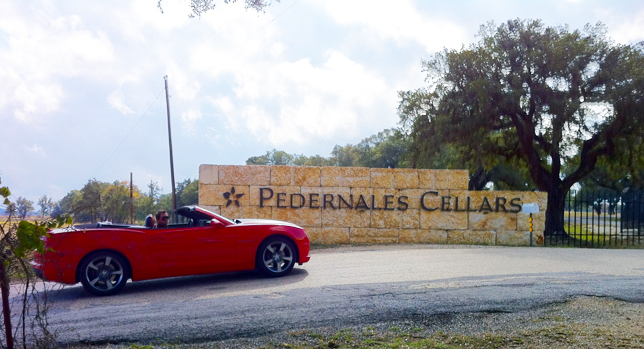 Gorgeous views out across the Hill Country and a large tree shaded patio deck were just the spot to enjoy their wines. Particulary good were their Viognier and Reserve Tempranillo. We bought a bottle of Viognier and settled down to enjoy the view, the wine and their warm hospitality. Being designated driver, I sipped one half glass or so. Bill was designated imbiber! Their wines also are good efforts and while I find some flaws, they also are a winery to watch for the next few years.
After a nice hour break, Bill knew another cool, twisty curvy road that was just what the Camaro wanted, and the sun stayed out for the 45 minute drive to The Salt Lick in Dripping Springs. World famous for some of the best Texas Barbeque in the Hill Country, it was the natural place to stop for dinner. The extra plus is they now have their own vineyards and winery, where my long time pal Jay Knepp is doing some good work. The beauty part is the tasting room right next to the restaurant, where we tasted through the Salt Lick wines and some other locals, such as the Duchman vineyards. I really rather liked the Salt Lick "BBQ Red" which does pair well with the delcious BBQ next door and their Sangiovese which comes from the McPherson vineyards, some of the best in the State.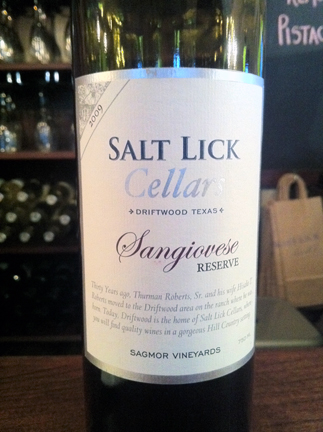 Sadly, the rain started up just as we got to The Salt Lick, where the parking lot was its usual muddy mess. Great food and good wine were the order of the evening, and Bill and I headed home.
The rain kept the top us the next few days, but I continued to enjoy driving the Camaro which held sticky tight to the road in the wet. It was with some sadness I had to give the keys back to Chevy after the week ended. I had a great time, and "Bill and Rob's Most Excellent Adventure" was really a lot of fun.
Thanks Chevy. Thanks Driskill Team, Thanks William Chris, Thanks Pedernales, Thanks Jay and Salt Lick. Thanks Bill for riding Shotgun. I had a blast.
Cheers,
Rob Moshein
Austin Wine Guy